Kizumonogatari, Love Live! Sunshine!!, Rewrite, and more!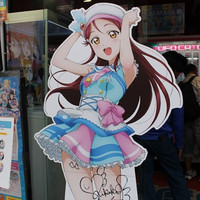 One day after the first day of the Comic Market 90, which I participated for my own doujinshi circle, I again visited the Akihabara town in Tokyo, the "Mecca of Otaku," to check the latest anime/game street ads as a routine mission. Since Japanese anime/manga fans are too busy collecting the newest doujinshi at Tokyo Big Sight for this three days, I saw more groups of foreign tourists than usual.
*all of the photos were taken by Mikikazu Komatsu on August 13, 2016
In the front of the JR Akihabara station (Denkigai-guchi)
Atre Akihabara Station building is now collaborating with the "Monogatari" anime series
"Kizumonogatari" character standees
To commemorate the start of the TV broadcast, Sega Akihabara store has been holding a collaboration
campaign with "Love Live! Sunshine!!" from July 2 to September 4.
During the campaign period, nine Sega stores across Japan are displaying the life-size standees of the
Aqours members. The Akihabara store has the Riko Sakurauchi one with her VA Rikako Aida's autograph.
Club Sega Akihabara New Store has also opened a collbotation cafe featuring the anime till September 29
Good Smile Company's "Sakura Kinomoto: Stars Bless You" figure ad on the Radio Kaikan building
"Rewrite" DVD/Blu-ray volume 1 on Gamers Akihabara
"Love Live! Sunshine!!" Blu-ray volume 1 on Gamers
"Kagamine Rin/Len" dollfie dream dolls on Volks Akihabara SR Hobby Paradise
August's new PC game "Sen no Hatou, Tsukisome no Kouki" on Sofmap Amusement Store
LiSA's 10th single "Brave Freak Out" on Sofmap main store (south side)
The song is now featured as the OP theme for the "Qualidea Code" TV anime
"Rewrite" DVD/Blu-ray volume 1 on Sofmap main store (west side)
Weekly Famitsu x "Danganronpa" collaboration ad in the Kanda Myojin street
"selector destructed WIXOSS" DVD/Blu-ray on Sofmap 1st store
"ReLife" DVD/Blu-ray 1st volume on Sofmap 1st store
VA unit YuiKaori's 12th single "Promise You!!" on Toranoana Akibara main store
VA unit petit milady's 3rd album "Calendar Girl"
"Kizumonogatari I: Tekketsu-hen" DVD/Blu-ray
AmiAmi Akihabara store ad
Kotobukiya Akihabara store
Ad truck for Tinkerbell's new lithograph exhibition
Izumi Tsubasu's art exhibition at the Akihabara UDX gallery Next 1
Akiba Square is holding a 20th anniversary exhibition for the "Yu-Gi-Oh!" franchise, titled "Road of Duelist"
(unfortunately I got no time to check the inside)
---
Archive:
FEATURE: Anime/Game Street Ads in Akihabara: April 2012
FEATURE: Anime/Game Street Ads in Akihabara: May 2012
FEATURE: Anime/Game Street Ads in Akihabara: August 2012
FEATURE: Anime/Game Street Ads in Akihabara: October 2012
FEATURE: Anime/Game Street Ads in Akihabara: November 2012
FEATURE: Anime/Game Street Ads in Akihabara: December 2012
FEATURE: Anime/Game Street Ads in Akihabara: March 2013
FEATURE: Anime/Game Street Ads in Akihabara: April 2013
FEATURE: Anime/Game Street Ads in Akihabara: May 2013
FEATURE: Anime/Game Street Ads in Akihabara: July 2013
FEATURE: Anime/Game Street Ads in Akihabara: August 2013
FEATURE: Anime/Game Street Ads in Akihabara: December 2013
FEATURE: Anime/Game Street Ads in Akihabara: March 2014
FEATURE: Anime/Game Street Ads in Akihabara: August 2014
FEATURE: Anime/Game Street Ads in Akihabara: October 2014
FEATURE: Anime/Game Street Ads in Akihabara: December 2014
FEATURE: Anime/Game Street Ads in Akihabara: March 2015
FEATURE: Anime/Game Street Ads in Akihabara: August 2015
FEATURE: Anime/Game Street Ads in Akihabara: October 2015
FEATURE: Anime/Game Street Ads in Akihabara: December 2015
FEATURE: Anime/Game Street Ads in Akihabara: January 2016
FEATURE: Anime/Game Street Ads in Akihabara: March 2016
FEATURE: Anime/Game Street Ads in Akihabara: May 2016