New book, "Japanese Tattoos", on sale now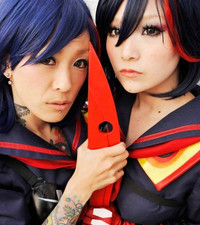 If you're a regular visitor to Crunchyroll News, odds are that you love anime. A lot. But is that burning passion enough to make you permanently mark yourself with an image of your favorite character? Some folks featured in the new book "Japanese Tattoos: History * Culture * Design" by Brian Ashcraft (he of Kotaku fame) and Hori Benny have already taken the plunge. Below, enjoy some photos and excerpts from this amazing new pager turner!
Says Brian Ashcraft on the subject of otaku, or geek, tattoos and how they fit into the larger cultural history of the medium in Japan...
"My co-author Hori Benny, who is one of the pioneers of Japanese geek tattoos, and I wanted to give a complete picture of tattooing in Japan and show how geek tattoos fit into that tradition. A hundred years ago, a tattoo enthusiast in Japan might get a legendary hero, a deity, a mythical creature or a floral motif inked, and today, you can still get that. But you can also get our modern heroes and heroines, whether that's a manga, anime, or video game character. Tattoos in Japan not only reflect the country's long-standing motifs, but it's modern day popular culture."
Excerpts from the book "Japanese Tattoos: History * Culture * Design" presented below!
Kurumi Tokisaki from Date A Live on some guy's torso
Go Nagai's Mazinger Z, tattoo by artist En.
Two inked Kill la Kill cosplayers in Japan
Thinking of getting a Japanese-style tattoo? Want to avoid a permanent mistake? Japanese Tattoos is an insider's look at the world of Japanese irezumi (tattoos).

Japanese Tattoos explains the imagery featured in Japanese tattoos so that readers can avoid getting ink they don't understand or, worse, that they'll regret. This photo-heavy book will also trace the history of Japanese tattooing, putting the iconography and kanjisymbols in their proper context so readers will be better informed as to what they mean and have a deeper understanding of irezumi. Tattoos featured will range from traditional tebori (hand-poked) and kanji tattoos to anime-inspired and modern works—as well as everything in between. For the first time, Japanese tattooing will be put together in a visually attractive, informative, and authoritative way...
Patrick Macias is editor in chief of Crunchyroll News & Otaku USA magazine.
He is also the writer of HYPERSONIC music club, Paranoia Girls, & PARK Harajuku: Crisis Team!