Who did the fine people of Crunchyroll think deserved the top spot?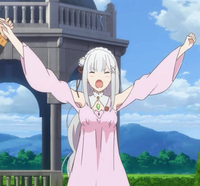 Last week, nearly 20,000 fine Crunchyroll users from more than 100 countries participated in our first-ever Re:ZERO -starting life in another world- CHARACTER POLL!! Users who were browsing the Crunchyroll front page last weekend saw an orange tab appear at the bottom of the page, with all of their favorite characters from Re:ZERO. And today, in celebration of yesterday's final episode, we'll be sharing the results!!
Re:ZERO is a series that has taken the anime world by storm - even if you're not a current viewer, you're sure to have seen the top winners of this poll everywhere you've looked, from lattes I'd never want to drink to this guy's shin guards.
Which characters will achieve "VICTORY!"???
With dozens of characters introduced in Re:ZERO already and 17,488 different people sharing their favorite characters, we've got a lot of ground to cover. We'll be working our way from the bottom of the list up, so please join me as we celebrate Crunchyroll users' favorite Re:ZERO characters!!
Please note, some of the character descriptions contain minor spoilers for those who have not watched up through episode 23!!
Edit: Due to popular demand, please enjoy the full results in table format!!
| Name | Votes | Percentage |
| --- | --- | --- |
| Rem | 8650 | 49.5% |
| Subaru | 2246 | 12.8% |
| Puck | 1671 | 9.6% |
| Emilia | 1225 | 7.0% |
| Beatrice | 900 | 5.2% |
| Crusch | 651 | 3.7% |
| Ram | 616 | 3.5% |
| Felis | 522 | 3.0% |
| Felt | 465 | 2.7% |
| n/a | 167 | 0.9% |
| Wilhelm | 117 | 0.7% |
| Betelgeuse | 72 | 0.4% |
| Reinhard | 71 | 0.4% |
| Elsa | 23 | 0.1% |
| Julius | 17 | 0.1% |
| Priscilla | 13 | 0.1% |
| Mimi | 11 | 0.1% |
| Roswaal | 11 | 0.1% |
| Rom | 8 | 0.1% |
| Thearesia | 9 | 0.1% |
| Aldebaran | 6 | 0.0% |
| Anastasia | 4 | 0.0% |
| Kadomon | 3 | 0.0% |
| Satella | 4 | 0.0% |
| Appa Seller | 2 | 0.0% |
| Ricardo | 2 | 0.0% |
| The White Whale | 2 | 0.0% |
The Top Vote-Getters from the "Other" Section
Left-to-right: Wilhelm, Betelgeuse, Reinhard
You can only fit so many names on a poll, so some characters were relegated to the dreaded "Other" section. In total, 3.1% of all voters made this selection, spread between 21 characters. We'd like to take this chance to highlight the top three in this section: Wilhlem, Betelgeuse, and Reinhard!
What's most remarkable about the people who voted for these characters is that they really cared - the rest of you just had to check a box and hit "Done", but the champions who stood behind this trio made sure to type out their love for their favorite character…albeit, not always with the same spelling.
Wilhelm van Astrea stole the hearts of 0.67% Re:ZERO fans, making him the top pick left off the list. Driven by his desire to avenge his wife, Thearesia, Wilhelm's heroics in the battle against the White Whale and the Witch's Cult certainly are worthy of votes, making the 10th spot on our list.
And you thought you had a bad habit of biting your nails!! The Sin Archbishop of the Witch Cult representing Sloth, Betelgeuse creeps his way into the #1 spot for a whopping 72 voters - I guess if someone shouts "LOVE!" enough, you start to believe it!
Reinhard van Astrea was one of the first characters to have a major impact on us - after watching Subaru (and even Emilia!!) fall to Elsa, Reinhard demonstrates just how powerful a knight can be, with some terrific animation to help spotlight the redhead. That said, that was only enough for 71 votes, barely excluding Reinhard from our top 10.
Your dear author shares his favorite Re:ZERO characters!
Let's now take this time to give a moment of silence to *my* favorite characters, Elsa and Priscilla, as well as all of the other inhabitants of Re:ZERO that didn't make it out of the "Other" section. My poor girls received a combined 46 votes - I should have campaigned for them!!
The "Not-Quite-There" Crew
It's not hard to imagine voters following Crusch into battle!!
Leading the "Not-Quite-There" crew is Crusch, the level-headed contender for the Royal Throne whose ability to discern the truth and inspire her troops netted 651 votes, securing the 6th place spot! Like with so many other Re:ZERO characters, Crusch totally surprised me - I didn't think we'd get to see so much of the various Royal Candidates, but I'm truly glad that Crusch has been such a key part of Re:ZERO in this last arc/arc-and-a-half.
Sister, sister, did you hear that I'm great??
In seventh place, we have Crunchyroll Hime's favorite, Ram, the tenacious pink-haired twin to Rem. Ram is critically-underrated in my personal belief - Ram is the funniest and most snarky character in all of Re:ZERO, and the only one to regularly call out Subaru for who he is. The show deserves more Ram, and Ram deserves more of us…luckily, she had 616 champions in this poll!
Nyaa ~ !!!
Felis is next on the list - the charming cat boy is a loyal knight to Crusch, and to the 522 of you who consider this charmer your favorite Re:ZERO character. Felis is deserving of all the love in the world - this capable healer always knows the right thing to do and say, and plays support to Subaru and his royal candidate, Crusch, in the most incredible way. He'll make you think his plans were your idea, and be the cutest character on screen while he does it ~ <3
To be honest, of all the candidates for the throne, I'd be most interested to see her economic policy.
The spunky thief / unwilling candidate for the throne Felt claims the fewest votes of any of the characters actually listed on the poll, with just 465 votes, or 2.7% of the total. Felt suffers from not getting any screen-time in the last ten episodes, a rare circumstance for one of the most fun characters to watch in the beginning, and a royal contender to boot!
The Contenders
Beatrice
This photo will do, I suppose.
"Betty" made off with 5.15% of the total with an even 900 votes, cementing herself as a worthy contender for Crunchyroll hearts, I suppose. Her campaign may have even been more successful had she been able to leave her library, but I think she's content without such a bothersome crowd making a fuss over her.
Emilia
If you can't win a popularity contest, how can you win the Royal Election?
E-M-T! E-M-T!! Apparently, these cheers were not enough, because the heroine of our series, Emilia, didn't even crack the top 3!! The beautiful half-elf with silver hair is the subject of Subaru's desires…but is that enough to top the list? Apparently not!
The Top 3
Puck
The secret that everyone is charmed by Puck is out!!
Emilia vs. Rem may be a heated debate in the circles I follow, but there's one thing that everyone agrees on - Puck is the best. His fatherly devotion to Emilia is charming, his magic abilities are awe-inspiring, and his cuteness is undeniable. Puck even has a "mega" evolution, which is, as you all know, saved only for the most popular Pokémon.
Subaru
...what
why
why
WHY
why would 2,246 people pick SUBARU as their favorite character?!
I'm at a loss. In second-place comes our protagonist torn from another world, Subaru, with nearly 13% of the vote. That's about as much as all five Royal candidates, including EMILIA, the HEROINE OF RE:ZERO (according to Kadokawa, at least). Subaru is good at one thing, and that's doing whatever would be the worst thing to do in any given situation.
Ok, sure, maybe I'm being too hard on the guy. He's grown a lot (even if it's never as much as he needs to), he truly cares (once he gets over caring about himself), and he's a relatable dude. Maybe because I see just a little more of myself than I'd like in Subaru that I'm so incredulous to his own success, but I guess it's a good thing to have the protagonist more popular than most of the side characters for once!
...
AND OUR WINNER….
GET READY FOR IT….
Rem
Surprising no one who uses the Internet.
With FIFTY PERCENT OF THE VOTE, Rem knocks aside the competition. The fine people of Crunchyroll are not saying anything like "I love Emilia" or other nonsense, they're pouring their support into the half-demon maid of Roswaal's mansion who works hard for the sake of those that she loves.
No one here should be surprised - when I said that Re:ZERO has taken the anime world by storm, I really meant REM - and 8,650 Crunchyroll users said as much with their votes.
I can't lie, I love Rem. Her confession scene in episode 18 made her feelings palpable to even the most hardened viewer. She is unfathomably sweet and powerful and makes Re:ZERO a delight to watch whenever she's on screen. Congratulations, Rem, I hope this happiness makes up for some of your other hardships!
---
So thank you so much for enjoying this Re:ZERO journey with us, and thank you to everyone who voted in our poll!! Re:ZERO was a blast, and I can't wait to watch it all again in one go ~!
…and to the two people who voted for Ricardo, I only have one thing to say to you: