ACCA: 13-Territory, Sword Art Online, Fate/Grand Order, Sister Princess, and more!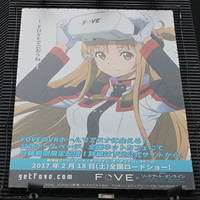 One day before the main area of this year's Anime Japan opened for general visitors, March 24, I again visited the Akihabara town in Tokyo for a routine photo report for the CR News readers. Check out the latest anime/game street ads from the "Mecca of Otaku" below.
*all of the photos were taken by Mikikazu Komatsu on March 24, 2017
In the front of the JR Akihabara station (Denkigai-guchi)
Atre Akihabara Station building is now collaborating with the "ACCA: 13-Territory Inspection Dept." anime series.
SEGA Akihabara is now holding a campaign for the release of the Sword Art Online The Movie: Ordinal Scale
film and has opened a collaboration cafe with Fate/Grand Order.
"Sister Princess" 15th anniversary Blu-ray box
"Lycee Overture Ver.Fate/Grand Order" trading card game
Gamers Akihabara store, Card Kingdom Akihabara store
"Interviews with Monster Girls" DVD/Blu-ray volume 1
"BanG Dream!" announces the Budokan concert on August 21
"KonoSuba: God's Blessing on this Wonderful World!" exhibition was scheduled to begin from the next day, March 25.
SEGA amusement store, Melon Books Akihabara store
"AKIBA'S TRIP -THE ANIMATION-" Blu-ray box
ALTER: "Cecil Aijima" (Uta no Prince-sama) figure
"Saekano: How to Raise a Boring Girlfriend" TV anime 2nd season
"Blue Exorcist: Kyoto Saga" DVD/Blu-ray volume 1
"Space Battleship Yamato 2202"
Toranoana Akihabara store B: "Nana Mizuki Live Park" DVD/Blu-ray
"Masamune-kun's Revenge" DVD/Blu-ray
"KonoSuba: God's Blessing on this Wonderful World! 2" DVD/Blu-ray
TV anime "The [email protected] SideM"
FUJI "CR Aria The Scarlet Ammo II"
---
Archive:
FEATURE: Anime/Game Street Ads in Akihabara: April 2012
FEATURE: Anime/Game Street Ads in Akihabara: May 2012
FEATURE: Anime/Game Street Ads in Akihabara: August 2012
FEATURE: Anime/Game Street Ads in Akihabara: October 2012
FEATURE: Anime/Game Street Ads in Akihabara: November 2012
FEATURE: Anime/Game Street Ads in Akihabara: December 2012
FEATURE: Anime/Game Street Ads in Akihabara: March 2013
FEATURE: Anime/Game Street Ads in Akihabara: April 2013
FEATURE: Anime/Game Street Ads in Akihabara: May 2013
FEATURE: Anime/Game Street Ads in Akihabara: July 2013
FEATURE: Anime/Game Street Ads in Akihabara: August 2013
FEATURE: Anime/Game Street Ads in Akihabara: December 2013
FEATURE: Anime/Game Street Ads in Akihabara: March 2014
FEATURE: Anime/Game Street Ads in Akihabara: August 2014
FEATURE: Anime/Game Street Ads in Akihabara: October 2014
FEATURE: Anime/Game Street Ads in Akihabara: December 2014
FEATURE: Anime/Game Street Ads in Akihabara: March 2015
FEATURE: Anime/Game Street Ads in Akihabara: August 2015
FEATURE: Anime/Game Street Ads in Akihabara: October 2015
FEATURE: Anime/Game Street Ads in Akihabara: December 2015
FEATURE: Anime/Game Street Ads in Akihabara: January 2016
FEATURE: Anime/Game Street Ads in Akihabara: March 2016
FEATURE: Anime/Game Street Ads in Akihabara: May 2016
FEATURE: Anime/Game Street Ads in Akihabara: August 2016