Here are the details on how Yoichi Kato became one of the most popular screenwriters in anime!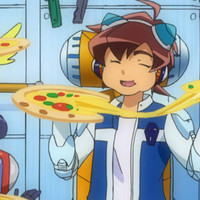 Creating television for children can be a daunting task. Whilst you can target a particular demographic with your late night series and work based on interesting concepts and ideas, creating a show for children has many more complexities to it. Ethical standards, parent approval, broadcast restrictions…
And that's not to mention having to appease the harshest critics out there:
Kids themselves.
It's no surprise that the screenwriters of kids anime exist in a bubble of sorts, occasionally reaching out to other demographics. For example, Atsuhiro Tomioka was brought from Pokémon to Inazuma Eleven and Battle Spirits in the hopes of replicating those successes. However, whilst Tomioka excels at adventure series with fun colourful characters and bouts of fulfilling and exciting conflict, it's another name that I find the most interesting. That name is Yoichi Kato.
It's an odd sentence to parse, but I believe Yoichi Kato is the most successful modern anime writer. Married to the singer and lyricist Saori Kodama and a member of the Writers' Guild of Japan, his writing credits bridge some of the most engaging anime series to grace Japanese TV. Making a mark with his work on Space Brothers and Aikatsu, it was through the latter series that his career started to take a particular path.
Pony Canyon Producer Tatsuya Ishiguro once referred to the roles of Director, Series Composer, and Character Designer as the three pillars of anime production. Producers will have an idea of what the story is and how it will go, but it's up to the director to flesh this out and the Series Composer to write and supervise the scripts. It's not common for anime screenwriters to have creative control of what they write. Most scripts are the results of script meetings between producers, the director, and writing members of staff. Therefore, until a screenwriter becomes renowned enough to be trusted to develop a series on their own, you can expect that most of the events of a series weren't the makings of the person credited for the script.
It's always been important to give the position of series composition to someone the rest of the staff can trust to understand the characters. In writing character dialogue and jokes, the writer is developing longevity and viewer attachment. Akihiro Hino, the CEO of Yo-Kai Watch's development company, had planned from the start for Yo-Kai Watch to be a mixed media success, video games, anime, manga and merchandise. In his plan, all of these would have to harmonize into a perfectly integrated marketing campaign that he hoped would take Japan by storm. Not only did Hino design the original Yo-Kai Watch game, but he even wrote the entire story for it. So he needed someone that he trusted to bring Yo-Kai Watch to the television screen, and that person happened to be someone he'd met an event and invited to work on Gundam AGE with him: the aforementioned Yoichi Kato.
There's a magic to a Yoichi Kato script that seems to deliver the core idea of the the script's given narrative or purpose with no fluff attached. Yo-Kai Watch is a gag show, structured to replicate the success of the classic, Doraemon. With just a few lines and good visual timing, there's no need for exhaustive dialogue. And it's thanks to his heavy involvement with writing shows like Monster Strike and teaming up with kids media legend, Akihiro Hino, that Yoichi Kato has managed to optimize the scripts of kids comedy anime.
Kato is someone who has the ability to understand young viewers and the way in which they consume TV. By understanding and knowing how to take advantage of unique story structures and premises, both Aikatsu and Yo-Kai Watch stand as prime examples of some of the brightest and most engaging anime comedy series available, displaying an undeniable skill for all the silly and profound ideas that have boosted viewership into the charts for years now. Helping boost the 3DS' game sales by approximately 230% and helping write the Yo-Kai Watch movie that beat Star Wars: The Force Awakens in the Japanese box office are just two of accolades Kato can add to his already outstanding resume.
This sort of success has led Kato to now become one of the most in-demand anime writers within the industry as a whole. Invited to write for the Monster Strike anime series, he's become attached to an increasing number of successful children's properties. Although the end goal is to get kids to download the app, he is someone who understands the sort of messages that kids will resonate with and apply educational value in ways that appeal, rather than bore. He even gave a lecture on his writing techniques at AnimeJapan 2015.
It isn't rare to see two different shows that Kato supervises appear on Video Research's list of the ten most viewed animated TV series for the week and his latest project has been the very successful reinvention of Tatsunoko's Time Bokan franchise, Time Bokan 24. Traveling through time to discover a history that's much more fun than the history books tell it, it holds that energetic childhood charm that even adults should revisit.
---
Callum May is on an unending quest to make the anime industry seem cool and interesting. You can follow his journey on The Canipa Effect Youtube channel or follow his Twitter.