Tell us your favorite trope and we'll find you a series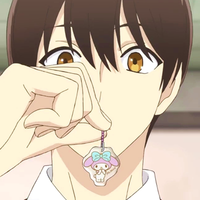 Maybe we're a little biased (okay, more than a little), but this season of anime is already a huge hit for us! There's everything from mangical girls to high school comedy, horror to action, fantasy to gag shows. There really is something for everyone!
Not sure where to start? We can help! Just give us your favorite anime trope, and we'll find you a character you're bound to love this season. Ready?
The Magical Girl: Sakura Kinomoto, Cardcaptor Sakura
There's nothing like a good old-fashioned magical girl anime. Adventure, romance, coming-of-age... and, of course, the heroine! Magical girls fight evil with strength and beauty. If you're looking for a magical girl to love this season, look no further than the Cardcaptor Sakura herself!
Sakura Kinomoto is back in the new Clear Card arc -- 15 years after we last saw her, but only a year for her. The new series brings new challenges when her collection of Clow Cards goes completely transparent, and a stranger in a dream grants her a new power. And, of course, Tomoyo is there with a whole new wardrobe to help Sakura save the day in style.
Watch Cardcaptor Sakura: Clear Card
The Light Novel Hero: Satoo, Death March to the Parallel World Rhapsody
Fans have something of a love/hate relationship with the stereotypical Light Novel Protagonist -- but we've gotta admit it's an envy thing in a lot of cases. We'd sure like to end up OP in a parallel world, or with an entire flock of our preferred gender falling over themselves for us. And if you're in the mood to live it up vicariously through the most recent Typical Japanese Kid, Satoo of Death March to the Parallel World Rhapsody has you covered.
Imagine being a programmer transported into the world of your games, complete with an interface and God Mode powers. Sure, it's going to be confusing at first. But imagine the fun you'll have once you realize what you'll be able to do! Watching Satoo (not his real name) make the most of his situation is fun for gamers and light novel fans alike. Now, if only we could jump into Overwatch and get some work done...
Watch Death March to the Parallel World Rhapsody.
The Dojikko: Nadeshiko Kagamihara, Laid-Back Camp
If you're looking for a precious cinnamon roll to protect, Nadeshiko needs you. Like, now.
Our love for cute, clumsy, well-meaning girls is completely understandable -- they're sweet and friendly, but they need our help. Or someone's help. It's easy to get attached to them quickly. And Nadeshiko is no exception. The new girl in town wanders into a campsite with no memory of her new address or phone number. Fortunately, the kindness of veteran camper Rin (plus some curry ramen) keeps her intact long enough to get home.
It'll be fun to watch her learn, grow, and get more confident over the course of the series... but considering she completely missed Mt. Fuji when it was right in front of her, it's going to be an interesting ride.
The Kuudere: Koizumi, Ms. Koizumi Loves Ramen Noodles
She's cool, pretty, and elegant, but there's no way you can break through to her -- well, almost no way. The kuudere is unbreakable unless you just happen to hit something that makes her heart flutter. In the case of Koizumi, that just happens to be a big, beautiful bowl of ramen.
When it comes to after-school activities, conversation, or anything social, you'll never get anywhere with her -- as evidenced by her classmate Yuu's constant failings to get any quality time with her. But put a bowl of ramen in front of her, or ask her anything about ramen, and the floodgates open. Not only will you get her undivided attention, but you might even get a smile out of her. Well, until the ramen's gone. Then she's out.
Watch Ms. Koizumi Loves Ramen Noodles.
Bishonen: Everyone in Sanrio Boys
Let's cut to the chase. Where are the cute boys this season? They're in Sanrio Boys.
Whether you like them strong, shy, silly, or flamboyant, the anime adaptation of the multimedia franchise has them all. Best of all? These very different guys all love the world of Sanrio characters, and for their own reasons.
It's an extremely sweet show about liking what you liking, making friends based on common interests, and not being afraid to take strength from whatever works for you. But it doesn't help that the guys are all cute and charming in their own ways!
And that's hardly the end of the list! This season of anime has idol boys, idol girls, unearthly beings, and... you know, whatever Popuko and Pipimi are. Dive into our simulcast calendar for the latest from Japan every day!
-----
Kara Dennison is responsible for multiple webcomics, blogs and runs interviews for (Re)Generation Who and PotterVerse, and is half the creative team behind the OEL light novel series Owl's Flower. She blogs at karadennison.com and tweets @RubyCosmos. Her latest stories can be found in Whoblique Strategies.