Check out the best animation craft last week's anime had to offer!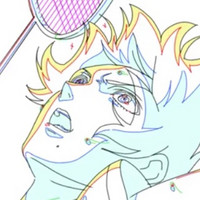 Summer anime is only getting started, but it's already bringing the heat! The beginning of a season tends to be loaded with high-quality animation craft, since every project does it best to catch your attention over the dozens of other titles that are also starting their broadcast. That translates into not only some of the most elaborate pieces of animation we'll be seeing all season, but also ambitious directorial efforts that pack a lot of punch. And if we're talking about sheer impact, HANEBADO! is smashing the competition so far.
In just a couple of episodes, HANEBADO! has already given us many production tidbits worth addressing. There's of course the fresh opening sequence, another triumph by Naoki Yoshibe of Jojo's Bizarre Adventure and Gatchaman CROWDS' OP fame. His forte continues to be organically combining all sorts of techniques that he's picked up from different fields – in this case, using hand-drawn effects and VFX to integrate the credits into the flow of the sequence. The pleasant watercolor-like ending (entirely made by none other than Pop Team Epic's director, Aoi Umeki) doesn't lag much behind, and neither do the many intense badminton back-and-forths we've already seen.
If there's something that truly stands out, though, it's how clear a vision the staff have for the series, and how willing they are to commit to their ambitious plans. The events in the anime have been heavily rearranged from the manga to turn the introduction into an arc all about Nagisa Aragaki taking her first steps to get over her trauma, as opposed to following the supposed protagonist. The tone is much more solemn, giving more gravitas to her situation.
That seriousness is complimented by an ambitious approach to the animation: no corners cut when it comes to the movement, especially for the badminton matches, which are an endless barrage of motion based off real plays. They even were assisted by professional players! These are all risky, costly decisions, and yet the team didn't hesitate when making them.
But as remarkable as it is, HANEBADO! isn't the only summer production that's already left an impression in some way or the other. It's not even the only sports anime that has left some production goodness behind, as seen by some brief but still neat moments of weighty movement in Harukana Receive.
The pivotal moments of first episodes are an easy target for ace animators, as seen in various shows this season. Banana Fish #1 was mostly carried by director Hiroko Utsumi's fierce framing sense, but they still made sure to give the rowdy action scene to Takahiro Kagami, renowned for his iconic Yu-Gi-Oh! eccentricities. A gang brawl in a bar is as chaotic as fights get, requiring a density in animation that's very taxing to achieve, but he pulled it off just fine.
When it comes to inherently taxing approaches to animation, though, very few people can compare to Kosuke Yoshida. He made his appearance in the first episode of Angels of Death the only way he knows: with a long scene that articulates every minute movement. You might have enjoyed his work in Slow Start earlier this year, where he ended up key animating over a whole episode's worth of intricate acting throughout the show, following a style that got him much attention in Girls und Panzer. The way his characters move isn't just attractive, it's also an excellent means of expression. First, he masterfully captures one feeling, like the palpable anguish in the Angels of Death clip, and then uses his constant movement to gradually transition to the next. Humans aren't machines who immediately switch from a single feeling to a different one after all!
So, what's the scene that has caught your attention in these first weeks of summer season? Was it any of these scenes we've covered? Perhaps Planet With's introduction, brought to life by effects expert Satoshi Sakai and perhaps the veteran Shinya Hasegawa? Maybe the whole second episode of Encouragement of Climb's newest iteration, as it was directed and fully key animated by the young prodigy china? Something else entirely? Feel free to share your favorites in the comments section!
---
Kevin Cirugeda is one of the founders of Sakugabooru and an editor and writer for the site's sister blog, Sakugablog. You can find him on Twitter shouting about children's anime, Messi (sometimes), and sakuga memes at @Yuyucow.