The creator of Monster and 20th Century Boys talks about how making Pluto almost killed him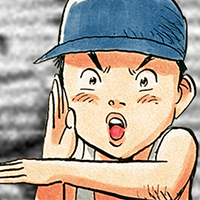 This article is brought to you by JAPAN HOUSE. JAPAN HOUSE is a cultural project that aims to nurture a deeper understanding and appreciation of Japan in the international community. Through outreach projects centered in its three locations in Los Angeles, São Paolo, and London, JAPAN HOUSE aims to drive further intellectual exchange between Japan and the world.
---
Naoki Urasawa is one of the modern masters of manga. The artist behind series such as Monster, 20th Century Boys, Master Keaton, and Pluto, his work has earned countless accolades from critics, including the prestigious Eisner Award (think the Oscars of the American comics industry). Urasawa-sensei's work is currently on display in an exhibit titled This is MANGA - the Art of NAOKI URASAWAat JAPAN HOUSE Los Angeles. This is marks the first solo exhibition of his work in North America, and is truly a landmark achievement for mainstream acceptance of manga as an artform.
I had the huge privilege of being invited by JAPAN HOUSE to attend the exhibition and interview Urasawa-sensei. The exhibit was, without exaggeration, quite breathtaking. As a lifelong fan of anime and manga, seeing Urasawa-sensei's impeccable art framed and displayed with the same care one could find at an art museum was truly wonderful. Images from my visit will follow below, but if you have the chance to see the exhibit in person before its closing on March 28th, please do so. Urasawa-sensei has to be one of the most thoughtful creators I have had the pleasure of interviewing–every answer he gave seemed like a selection from a well-researched written essay! I'm extremely grateful to Japan House for giving me this opportunity to speak with one of manga's living legends.
Our first question is about how you began as a manga artist. You graduated with a degree in Economics from Meisei University. Did you originally plan to work in the financial industry? What led you to becoming a manga creator?
I think very early on the idea of becoming a manga artist wasn't on my mind. I started writing manga when I was about four or five years old and when I was eight I drew my first full story to completion. It's interesting, because at that age I sort of understood the depth of what it meant to create manga, so I could really feel the deep gulf between what I was doing and what a real manga artist was doing. I didn't want to publish manga for the sole purpose of just making money–I could see that there was a lot of manga that had been commercialized and you could smell the money in it. That really wasn't what I was interested in.
It's funny, when I was really young, when I would visit my uncle he would tell me, "oh wow, Naoki, your drawings are so amazing! You could become a manga artist!" That's when I thought, "oh man, this guy doesn't know anything about what real manga is." That's why I never really thought of pursuing the path of a professional manga artist. I studied economics and thought I would work at some company somewhere.
Colored panel from Monster above a display case with drafts of spreads
We're going to move into some questions about your specific works. Your manga Monster is set in Cold War-era Germany. What made you decide to tell the story there instead of Japan?
A little while back, I wrote something called Pineapple Army, and it was originally set in New York. But my editor at the time felt that the reader demographic for this particular magazine was males aged 40 and over, and they're probably more likely to be engaged by stories set in Europe. That's why, after a turning point in the story, the setting moves to England, the same setting of another series I worked on called Master Keaton.
I think in Japan, our medical industry was influenced by a lot of German technology at the time, so when we think of medicine in Japan, a natural association is Germany. So when I began to write Monster, the protagonist is a doctor and setting the story in Germany seemed natural. As I developed the story, it made sense to place it specifically in post-war Germany so the story could incorporate the neo-nazi movement into the story.
That's so fascinating. I think a lot of American readers probably missed the connection between the Japanese medical industry and German influence. I think they'll be very interested to hear that.
When you have your medical records in Japan, often doctors will write them in German as well so that the patients can't see what the doctor is writing down. That's just another small way Germany shows up in the way we practice medicine.
The 'manga tent' was one of the coolest aspects of the exhibit. You could walk through it!
Moving on to your series Pluto, what led you to pursue a retelling of Astro Boy?
Within the story of Astro Boy, Osamu Tezuka wrote that the character of Astro Boy was built in 2003. So in 2003, to celebrate the birth year of Astro Boy, the rights holders opened up the property and many different manga artists reimagined the story of Astro Boy in their own style. Lots of artists were doing tributes and illustrations or short one-off manga to celebrate his birth year.
"The Greatest Robot in the World" is a very popular arc in Astro Boy, so I asked, "isn't anyone going to remake this? It's a great story that needs to be developed more!" Of course, no one had the courage to take on such a big task. My editor asked, "hey, why don't you do it?" and I said, "oh no, I couldn't possibly do that, that's crazy!" Of course, here we are now.
Was the goal with Pluto always to tell a darker story that referenced contemporary events, or did these themes arise organically through the course of writing the story?
I think that the idea of Tezuka's work being lighthearted is a common misconception–his stories are actually very, very dark. I think when it's been animated and adapted into many different formats, the general consensus about Tezuka's work is that it is "pure" and "family friendly." Astro Boy even aired on primetime TV in Japan. In this way, his work has sort of been reimagined as very wholesome and safe content, but if you really look at Tezuka's work on a deeper level, it's very dark. If you aim to properly adapt or remake any of Tezuka's work, you will naturally end up with a very dark story.
Costume for the character 'Friend' from a live action adaptation of 20th Century Boys
Are there any other stories from other artists that you would like to retell in the same fashion as Pluto?
(Solemnly) Never again.
(Everyone laughs)
I'm a very big fan of Tezuka's work, so I think that sheer amount of respect really affected me as I was working on Pluto. That enormous amount of pressure that I felt both from outside and within myself began to affect my health, and that's a big reason I don't want to do that again.
Many of your works could be considered part of the mystery genre. What about the way mystery stories are structured appeals to you?
I think a lot of that comes down to what we perceive as being fun or intriguing. You could take a lot of popular TV shows–I'm sure you all have been in the situation of saying "oh, I have to find out what happens next!" and you binge through Episode 1, 2, 3, 4. Every story that is able to do that to its audience has an element of mystery. You can even take a love story–if you're binging it and you're curious about what happens next, then I think there's a strong element of mystery there. That's the core of what makes a narrative so intriguing.
Colored panel from Pluto
Unfortunately we only have time for one more question, so I would like to ask a pretty broad, open ended one. What can manga do as a medium that no other art form can?
Let's take another format–the movie, for example. You have a massive budget and so many different people involved. It takes years to gather all the sponsors, get the casting just right, there are so many players involved to create just one product.
With manga, all you really need is a white piece of paper and pen. No other medium lets you translate your imagination into visuals as fast as manga. Manga can take you to the other side of the universe in an instant. Manga can take you to the distant future with spectacular technology or to the far past when there were dinosaurs. I truly believe that no other medium allows creators to express their ideas as efficiently as manga.
That's a beautiful place to end, thank you so much Mr. Urasawa.
© 2000 Naoki URASAWA/Studio Nuts
"20th Century Boys" was originally published by SHOGAKUKAN