Last week's Shield Hero episode FINALLY got all heroes working together! What will happen this time?! *SPOILERS*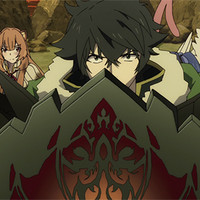 If you haven't watched this week's episode of The Rising of the Shield Hero, please shield your eyes from these spoilers!
**SPOILERS AHEAD**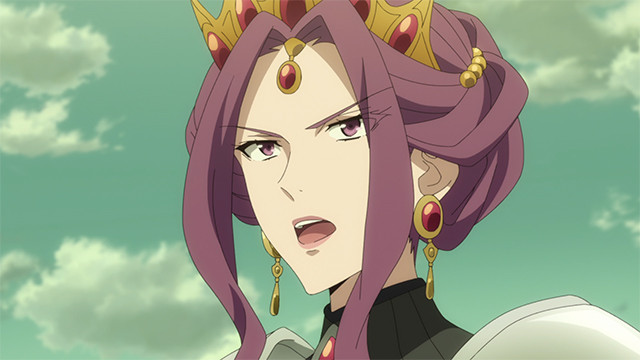 We start off this week's episode with the Queen herself taking some action; if this is a crisis that affects the whole world over, who is she to just sit by the sidelines? She declares to her fleet that they'll put down that traitorous pope and his followers. We stan this FIERCE QUEEN! But will she and her fleet make it in time to help Naofumi and the others?
One by one, our heroes fire their attacks on the pope, without much of an effect on him...
Sure, the Pope's followers have the ability to heal him if he should take damage, but how long could they keep that going? Mana supply isn't infinite, and it could run out real quick if the followers were to keep that Cathedral up in the midst of healing.
Naofumi launched an impressive curse attack on the Pope... but it didn't work on on him?! What gives! The Pope smugly tells Naofumi that "this is hallowed ground blessed by God." So it looks like while being imprisoned in the Cathedral, effects like curses don't work at all. The Cathedral is not broken or overpowered at all, right?!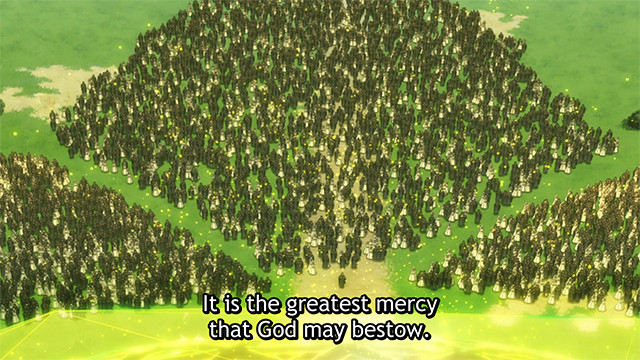 After all that boasting and show of power, a third of the Pope's followers fall after having their mana taken. Finally, a chance to strike! But even with their firepower diminished, the Pope still demands that sweet mana flow to keep up his "strength", even though it may come at the cost of his precious believers lives. You'd think some of them would... y'know... wake up and just walk out, but nope. They'll really sacrifice their lives under the guise of slaying an enemy of God.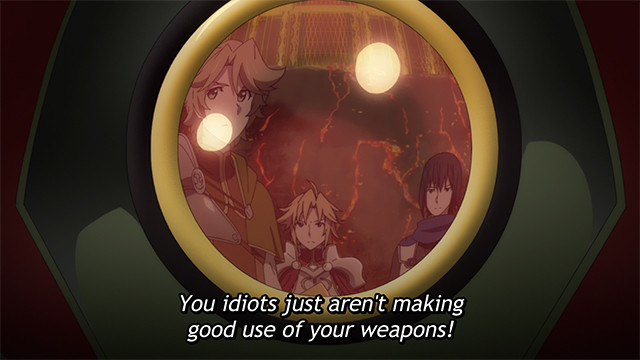 The three stooges (Spear, Sword and Bow Heroes) look to Naofumi to "do something about it." Excuse you guys??? They go on saying that even though Naofumi is a lower level than them, that his Shield is overpowered and can totally just make this huge problem disappear. Yeah, sure, he'll get right on that!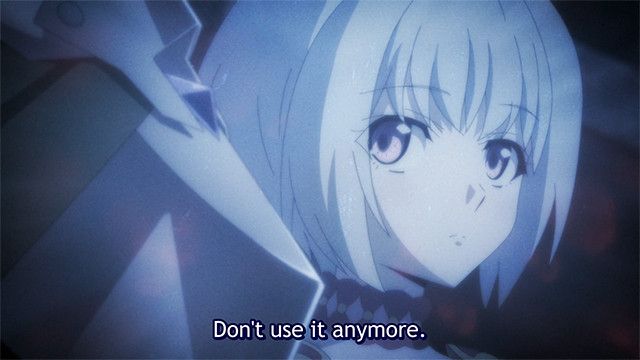 Fitoria's warning to not use the Shield of the Curse Series flashes in Naofumi's mind... And what does he do?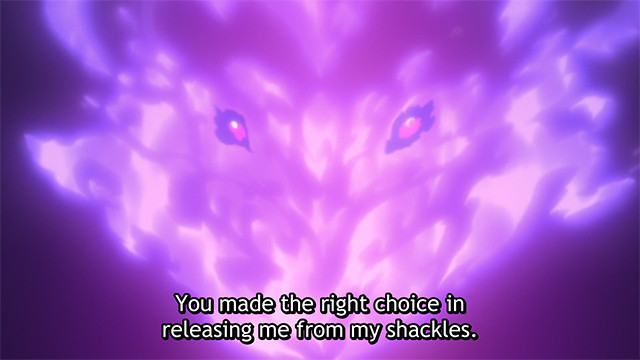 He freakin' USES IT!!! You've been warned, son!
Naofumi is sweet talked to let his anger run rampant and consume everything on his path. This power he used previously... it fit like a glove, right? There couldn't be anything wrong with ignoring a warning and using it again, right? RIGHT?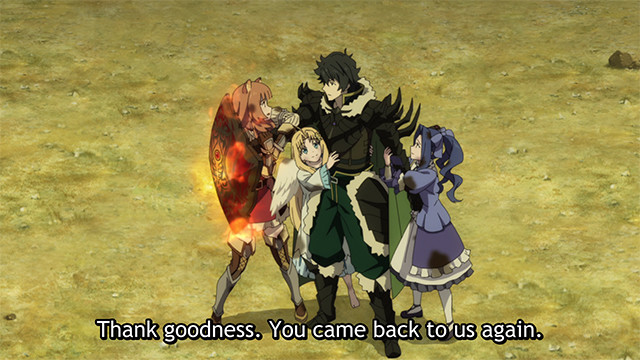 Before he launches his chaotic attacks, voices of his trusted companions reach him... Raphtalia, Filo and Melty detail on what this journey they've undertaken together meant to them. What they've learned, gained, and the trust they have for one another... what makes them the best team! The three of them manage to get Naofumi to snap out of it and they all share a very tender moment. Shield Team definitely is the BEST TEAM for sure!
The Pope redies his next attack as he continues to be a pompous jerk to Naofumi, but it's not without a final warning from Naofumi himself: grand power always comes at a price, and if that power is at the cost of his believers, then he's a bit short to pay up!
The show's first theme song plays as Naofumi and crew lay on the smackdown, and it just really makes for a hype moment; doesn't that song get you all fired up?! Also, that transition from Filo's attack to Raphtalia's attack looks SICK!
Enough is enough, and the Pope unleashes an illusion attack that is unpleasant to look at and isn't broken AT ALL. Looks like our crew is out of luck and all hope is lost...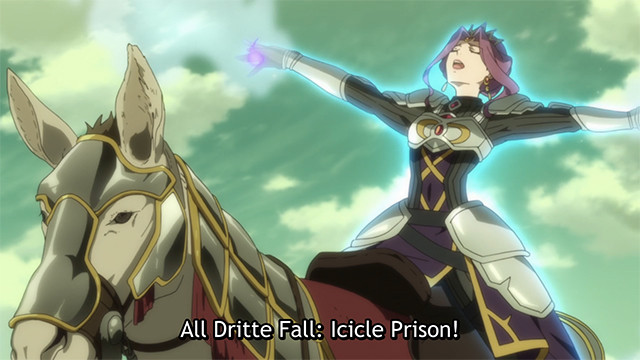 ...Until our FIERCE QUEEN comes in with the most flamboyant way to cast an Ice Prison spell! This is the chance we've been waiting for! The Pope is stopped in his tracks! The time for dealing the killing blow is NOW...!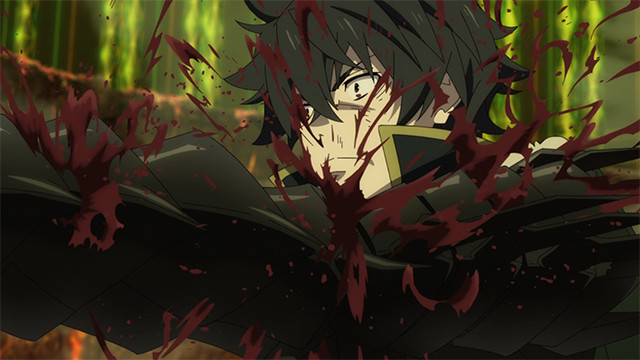 ...Whoops, that didn't go as planned. Naofumi bleeds an insane amount as his finisher backfires on him... or does it...?
In the end, the Pope gets what's coming to him as sweet justice reigns supreme! However, it looks like it was at the cost of Naofumi almost dying. He hangs on life's very thin thread as Raphtalia, Filo and Melty try to get him to stay awake and not succumb to death's embrace.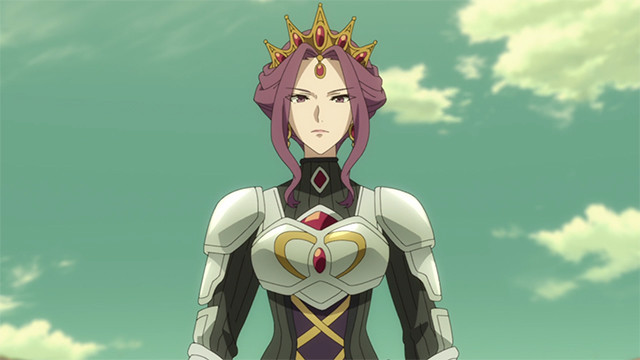 The Queen declares she will not let the Shield Hero die. Will she be able to heal him? Will our hero survive having lost that much blood? What now after the Pope's attack? Comment below and leave your predictions as we wait for next week's episode!
And now it's our favorite time of the week: checking out YOUR reactions to this week's intense episode! Let's see what y'all thought this time around!
Blood Sacrifice was CRAZY! pic.twitter.com/0iOky9Ej4H

— Derrick P. (@Derrpi) May 22, 2019
Everything i could've wanted and more from seeing the Wrath Shield in the anime. Breathtaking episode. The emotions ran high with the dragon trying to twist Naofumi. But he's got his friends and family now to help shoulder that pain. Beautiful. #shieldhero pic.twitter.com/JThMitGV3H

— Chandler Ingram (@Chandler_Ingram) May 22, 2019
the most charismatic character is here pic.twitter.com/8nAYkvklm5

— Ginto (@Ginto62) May 22, 2019
OMG!!! This weeks' episode of #shieldhero was far beyond expectations! The Queen's arrival, Naofumi fighting a more sinister rage, all the Heroes working together, and finally... BLOOD SACRIFICE!! The Pope deserved that ending!!! @ShieldHeroEN pic.twitter.com/K8r9xZxUAf

— Urzu 38 - ????????FFVII: R TEASER TRAILER???????? (@SlvrIceDrgn1981) May 22, 2019
This week's #ShieldHero was ???? pic.twitter.com/iFcsGhGtat

— Derrick P. (@Derrpi) May 22, 2019
Nothing gets you more hyped up than playing the opening song in the climax of this anime's version of "Senpai, this is our fight!" ????

No but seriously, opening songs playing as BGM during fights are really good and you can almost never go wrong with that. #ShieldHero

— Fonzi M - Melodies on Piano【フォンゼィー】 ???? (@FonziMGM) May 22, 2019
God, I love this so much. ????❤️????????#ShieldHero pic.twitter.com/s5ZqqXbKIy

— Matsukaze Kuki (@MatsukazeKuki) May 22, 2019
Bruh when they played the first op i died thank you for the hype pic.twitter.com/nBGT0ODs7m

— kleinlm (@Kleinelm) May 22, 2019
Fight it!!! The rage should never win!!! #shieldhero pic.twitter.com/O0zEFWnXtb

— Urzu 38 - ????????FFVII: R TEASER TRAILER???????? (@SlvrIceDrgn1981) May 22, 2019
NOOOOOO DID I MENTION I HATE CLIFFHANGERS ESPECIALLY THE RISING OF THE SHIELD HERO'S CLIFFHANGER!
I'M BAWLING MY EYES OUT AND THE ENDING SONG ISN'T HELPING ME!
ughhh such an amazing episode and series!

— karlalala???????? (@AnimeCollectFan) May 22, 2019
That Shield hero Episode though straight ???????? pic.twitter.com/bRziOHCkUo

— Flame (@PathosFlame) May 22, 2019
That new Rising of Shield Hero episode though. That was good.

— WaffleMantis (@WaffleMantis) May 22, 2019
Give some love to the official Shield Hero twitter and Facebook fan page where you can discuss the latest episode with fans every week!
---
This week, to celebrate The Rising of the Shield Hero, we have a new Shield Hero article coming out every day! Check out the other articles below (grey articles are not published yet):




----
Nicole is a features writer and editor for Crunchyroll. Known for punching dudes in Yakuza games on her Twitch channel while professing her love for Majima. She also has a blog, Figuratively Speaking. Follow her on Twitter: @ellyberries
Do you love writing? Do you love anime? If you have an idea for a features story, pitch it to Crunchyroll Features!