What else do you do with the fruits of your labor but bake them into a dessert?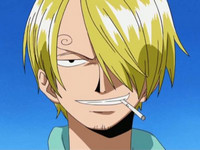 Pears are a kind of fruit that I think a lot of people are pretty ambivalent on. They are sweet, and can be juicy, but they sometimes have a funny texture and are a bit one note. Not crisp and complex like a good apple, or tart and vibrant like an orange. Pears are special in their own way, and definitely underused in the kitchen. This is why I consider Sanji to be a GENIUS cook! He takes the Horror Pear and bakes it into a delicous pear tart for the Straw Hat Crew, turning something rather undesirable into the perfect dessert.
The pear tart he makes looks vaguely reminiscent of French pear tarts, which makes sense because Japanese people are pretty renowned for LOVING French pastries. So, I decided to recreate the famous recipe in miniature, to more closely match what Sanji managed to whip up. If you've never had a French pear tart, it is essentially a dessert comprised of a butter crust, baked into the traditional fluted tart pan, filled with frangapine, an almond-butter mixture, and studded with whole pieces of pear, normally cut in a way that would reflect the shape of the pear. The whole thing is baked until the frangapine and pear muddle down into a beautiful juicy filling.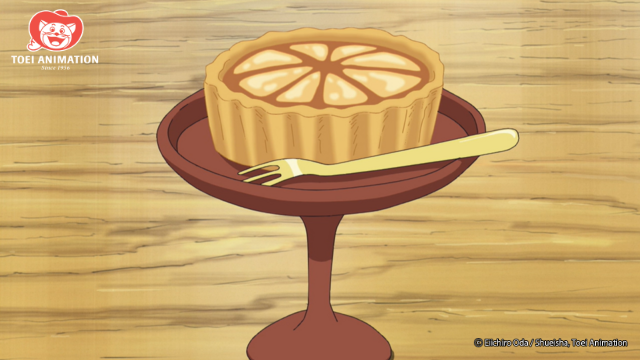 This is a great dessert to enjoy this summer. The end result is light, and goes perfectly with a cup of coffee or tea. The mingling of the almond and pear flavors produces a sweet bite, without being cloying or overwrought. The butter crust adds an element of decadence, and taken all together, this tart is the exact thing you need to satisfy any sweet craving you may have. Best of all, it'll disappear faster than you can blink- take it from me! I took my tartlettes into work, and within an hour they'd all disappeared...
Watch the video below for step-by-step instructions!
---
---
Ingredients for the Horror Pear Tart
Tart Shell
1 1/4 cups flour

1/2 cups powdered sugar

1/4 tsp salt

1/2 cups frozen, cubed butter

1 large egg

1/2 tsp vanilla extract
1/2 cups room temperature butter

1 cup powdered sugar

2 tbsp flour

1/4 tsp salt

1 cup almond flour

2 large eggs

1 tsp vanilla extract

1 1/2 tsp almond extract

1 lemon

1 Bartlett Pear, thinly sliced and sprinkled with lemon juice
You will also need 5 small tart shells for this recipe.
---
To Make the Horror Pear Tart
1. Assemble crust dough first. In a food processor, blitz the flour, sugar, and salt together. Toss in frozen butter chunks, and blitz together for about ten seconds, or until just combined. Add in egg and vanilla, and leave processor on until dough comes together in a cohesive clump. Spoon mixture onto plastic wrap, wrap up, and set in freezer to chill at least thirty minutes.
2. While crust firms up, make the almond filling. Cream butter together with powdered sugar. Then add in flour, salt, and almond flour and whisk together. Add in eggs one at a time, mixing well between each addition. Whisk in vanilla and almond extract. Whisk together about two to three minutes, to make sure everything is well combined. Set in fridge to cool.
3. Split dough into fourths, and set three of the four pieces back in the freezer. You want to work piece by piece so the dough stays cold and firm. Roll out each piece between two pieces of parchment paper, until big enough to cover your small tart pan. When it's the right size, remove baking paper and press tart dough into the tart pan with the back of your fingers. If you find the dough to be too sticky, let chill in freezer for a bit longer, or use a little flour along with the baking paper to help roll the dough out.
4. When dough is all rolled out and your tart shells are ready to go, prick bottoms of the tart with a fork. Bake at 375F for 15 minutes, covering halfway though with foil to ensure the crust doesn't burn. At this point, you can slice your pear and dress with lemon juice to prevent browning.
5. Remove from the oven, and fill with the almond mixture. You can spoon it in, or use a piping or plastic bag. Decorate top with pear slices that have been dressed with the lemon juice. Place back in oven for 25-30 minutes, or until the almond filling is nicely browned and a wooden skewer comes out clean.
---
I hope you enjoyed this post! Check in next week for another recipe, and to check out more anime food recipes, visit my blog. If you have any questions or comments, leave them below! I recently got a Twitter, so you can follow me at @yumpenguinsnack if you would like, and DEFINITELY feel free to send me food requests! My Tumblr is yumpenguinsnacks.tumblr.com. Find me on Youtube for more video tutorials! Enjoy the food, and if you decide to recreate this dish, show me pics! :D
What other famous anime dishes would you like to see Emily make on COOKING WITH ANIME? Let us know in the comments!

----
Do you love writing? Do you love anime? If you have an idea for a features story, pitch it to Crunchyroll Features!