Asta's Black Bulls deserve a little recognition, and THAT is why I decided to COOKIE-IFY them.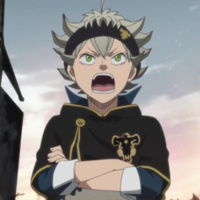 Riffing on last week's efforts with the Shield Hero cookies, I decided to amp it up another notch and make a more complicated design- the Black Bull logo from Black Clover! If you haven't been watching this anime, you've been missing out - action sequences are beautifully done, character development is on point, and Asta is a really likable character underneath some of the overzealous voice acting.
More importantly, the group he joins, the Black Bulls? Their logo is SICK. Seriously, it's really cool, I want it on a shirt or a hat. Like, where is THAT Black Clover merch? I want to know! I want to BUY. But, since I am a lazy internet shopper, what I present to you this week INSTEAD is a cookie version of said logo.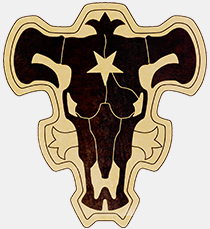 Now I know what you're thinking...Emily! Those cookies from last week were so cool! There's no way you can top them!
And to that I say WRONG and also...sorta right. In theory, these cookies are baller. In practice...well I learned a few things. The detail work is so specific, you really have to work hard to make sure all the corners come out perfectly, and even then it might not work exctly as you want. I couldn't find a star cookie cutter small enough, and wish I'd made one because it would have made that detail much better. If you know where to get one, PLEASE let me know, because I'd like to try these cookies again.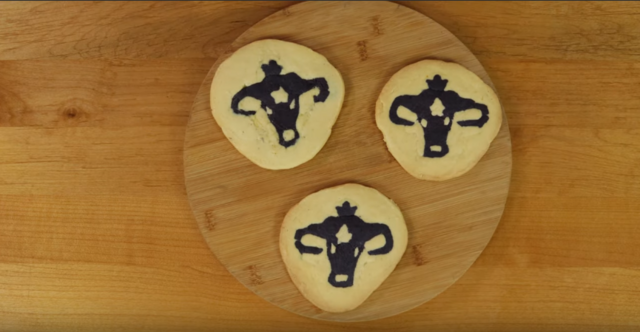 The next big thing I'd try again would be to form the horns all together, by first stacking the faces and gluing them together, and then going in and shaping each horn individually on the side of the face, and then working vertically. This would make the base skull shape much more even, and would make for better and more consistent slices.
Play around with it, and see what you come up with! I'd love to see your take on the cookie!
Watch the video below to see the full process! A small side note - it ends very oddly. I edited it over a month ago, and don't have access to my original footage, so I apologize for this. Everything I wanted to say at the end of the video I typed above.
---
---
Ingredients for the Slice and Bake Cookies
3/4 cup room temperature butter

1 1/4 cup confectioner's sugar

1 tsp vanilla

pinch of salt

3 egg yolks, room temp

2 1/4 cup cake flour

black food dye

egg wash (1 egg white whisked with 1 tbsp water)
---
To Make the Slice and Bake Cookies
1. Whisk butter until soft and goopy, like mayo. Stir in powdered sugar, then vanilla, salt, and egg yolks. Stir in cake flour in two increments, and then turn out onto a counter and knead together into a disc. Set aside in fridge until ready to use, or immediately separate into the proper colors and dye, working it in with your fingers.
2. At this point, follow the tutorial. If dough gets too soft, put in fridge or freezer to help firm up. After each step, freeze dough you were working on to help maintain the shape and integrity of the design.
---
I hope you enjoyed this post! Check in next week for another recipe, and to check out more anime food recipes, visit my blog. If you have any questions or comments, leave them below! I recently got a Twitter, so you can follow me at @yumpenguinsnack if you would like, and DEFINITELY feel free to send me food requests! My Tumblr is yumpenguinsnacks.tumblr.com. Find me on Youtube for more video tutorials! Enjoy the food, and if you decide to recreate this dish, show me pics! :D
What other famous anime dishes would you like to see Emily make on COOKING WITH ANIME? Let us know in the comments!

--------
Do you love writing? Do you love anime? If you have an idea for a features story, pitch it to Crunchyroll Features!