An anime food classic, try this one out in your own kitchen and see if you can take the heat!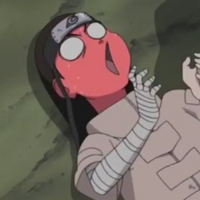 Naruto has given us THE anime food classic: Ramen. BUT it has also given us ramen's evil step-cousin - The Curry of Life! I say evil because it'll kill you with how spicy it is. Or bring you back to life. It kinda depends on your willpower. But, I figured I've already made Naruto's favorite ramen, so I just had to give the Curry of Life a try.
The goal here was to get it to be SPICY, but not, like, horribly so. I wanted to be able to actually eat the curry that I made, which meant that it needed to be spicy, but not so spicy that I was crying after the first bite. I also wanted to get it to be a nice bright red color. There are a lot of recreations online that are frankly kind of lackluster in terms of appearance. Something I think is fun about the anime is how vibrant the curry looks - it really appears to be quite deadly.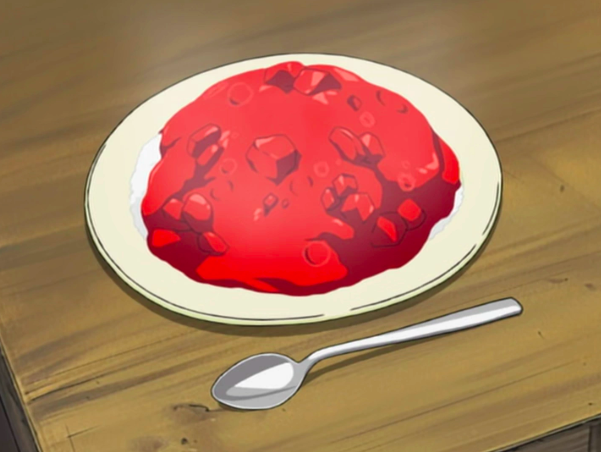 To solve the color issue, I decided to make the curry with a base of crushed tomatoes, which would add flavor and also that valuable red hue. Because beef partners well with tomatoes, I decided to go with a beef stew meat here, as well as beef stock for the liquid to round out the flavor profile.
To solve the spice issue, I decided to use hot curry roux. I've found that curry roux never tends to be actually ~spicy~ hot, it just tends to be more flavorful. Therefore, I went with the hot to amp up the spices and added in cayenne pepper to really give the curry a push in the right direction. Then, I finished it with a heavy helping of sriracha to add a red chili vinegar kick and further enhance the red coloring.
Would I make this again? Absolutely! That is, if I was serving someone who loved spicy food. Unfortunately, it was too spicy for me, though I am happy to report that it was still very flavorful. I ended up bringing it out to my students so they could finish it off, and they loved it. Hopefully you will, too. :)
Watch the video below for step-by-step instructions!
---
---
Ingredients for the Curry of Life
2 tbsp cooking oil

1/2 lb of beef stew meat

Salt

1 yellow onion, sliced

2 tsp cayenne pepper

8 oz Crushed tomatoes

2 Carrots, peeled and chopped

1 Russet potato, peeled and cubed

2 1/4 cups beef stock

Hot Curry Roux, 1 pack of S&B Curry

Hot sauce of your choice, to taste

Serve over rice
---
To Make the Curry of Life
1. Heat oil in a stew pot on high heat. Brown beef on all sides, and season with salt. Once browned, about 1-2 minutes per side, remove from pan and set aside.
2. Add in sliced onion and cook about 2 minutes, or until softened. Add in cayenne pepper, and salt, and cook another minute. Add in crushed tomatoes, carrots, potato, and stir together. Add beef back in, along with beef stock. Stir together.
3. Bring to a boil, skim any scum that rises to the top, and then cover and simmer about 10-15 minutes, or until vegetables have softened. Potatoes should fall apart easily when pierced with a fork.
4. Turn heat down to low, and add in the curry roux. Stir until fully melted, and then add in hot sauce to taste. Stir to combine.
5. Serve over rice, and enjoy hot!
---
I hope you enjoyed this post! Check in next week for another recipe, and to check out more anime food recipes, visit my blog. If you have any questions or comments, leave them below! I recently got a Twitter, so you can follow me at @yumpenguinsnack if you would like, and DEFINITELY feel free to send me food requests! My Tumblr is yumpenguinsnacks.tumblr.com. Find me on Youtube for more video tutorials! Enjoy the food, and if you decide to recreate this dish, show me pics! :D
What other famous anime dishes would you like to see Emily make on COOKING WITH ANIME? Let us know in the comments!