Check out these real-world locations of GRANBELM!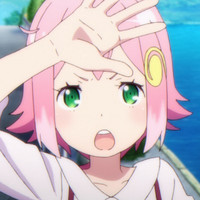 It's probably safe to say after these past few spectacular episodes: GRANBELM is the sleeper hit of the season!
Helmed by Re:ZERO's director Masaharu Watanabe, who teamed up again with Re:ZERO's character designer, Shinichiro Otsuka; the anime original GRANBELM has been a remarkably solid character-driven show so far, backed up by some superb production values, which make the show's highly thrilling hand-drawn mecha battles an absolute feast for the eyes. However, with the Armanox constantly battling it out in the battle royal-styled tournament, which takes place in an entirely different dimension, it's quite easy to forget that the show actually has a real-life setting, and even quite a scenic one at that. So in this edition of Anime vs. Real Life, let's take a look at the real-world locations of GRANBELM!

*Images were taken with GOOGLE STREET VIEW (images I shot myself are marked 'WD')

A bloodsoaked full moon heralds the start of each round of the GRANBELM tournament, for which all the participating mages, hoping to become the princeps mage, have gathered around Lake Biwa. Japan's largest lake is situated in Shiga Prefecture, and got its name from from its shape, which resembles a traditional japanese stringed instrument called biwa. While we're still being left in the dark as to why exactly the magical tournament takes place around the lake, there undeniably is a lot of spiritual power in the area, due to dozens of shrines and temples that surround it.

One of which is the beautiful Shirahige Shrine, known for its seemingly floating vermillion-lacquered torii gate (first image). The shrine's history dates back almost 2000 years, so it was theoretically already around when when the world of GRANBELM was still brimming with magic and witches.

Now the shrine is one of Mangetsu's and Shingetsu's favorite spots to hang out and strategize.

WD
The 1,4km-long Biwako Ohashi Bridge crosses Lake Biwa at its narrowest point, and can often be spotted somewhere off in the distance in the show. I was lucky enough to get this exact same photo of the bridge while having lunch at the nearby Biwakoohashikome Plaza Rest Area.

The drive across the bridge took around 15 minutes by car.

Gazing upon the red full moon must be especially beautiful from the Yumigaoka Observatory atop Mt. Hiei.

This little intersection near Wani Station in Otsu is probably the one real-life location in the show that pops up the most, since it's on the way to school for both Mangetsu and her little sister. The stone monument was erected in 1986 to commemorate a sacred lotus tree that once stood there.

What's interesting about the intersection is, that the house to the right doesn't actually exist anymore. It must have been demolished sometime before 2018 to make space for a parking lot, according to Google Street View. Things like these make you wonder just how soon the location scouting process for the show even began.


GRANBELM is actually not the first show to feature real-life locations from Otsu. Another anime that very prominently features Shiga Prefecture's capital is Chihayafuru, which will finally be returning for its third season this fall!


The building in the background is the Otsu Shiritsu Wani Community Center.

And lastly, the Mangetsu Temple is another temple located right at the shore of Lake Biwa. For some reason, it's not Mangetsu herself that lives here, but rather Kuon and her physically-ill sister Shisui.

Mangetsu means full moon in Japanese, and guess what, watching the full moon from the floating temple hall is said to be especially beautiful. Looks like another round of the GRANBELM is about to start, so be sure to tune in again this friday!
Are you watching GRANBELM? If so, who do you think should win the tournament? Sound off in the comments below!
---
Wilhelm is an anime tourist, who loves to search for and uncover the real-world spots he sees in anime. You can talk with him on Twitter @Surwill.
Do you love writing? Do you love anime? If you have an idea for a features story, pitch it to Crunchyroll Features!