Here's why you probably saw Boruto trending last weekend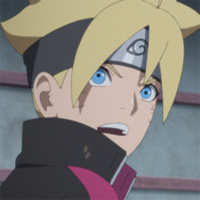 I love seeing anime series trend on Twitter because it usually means one of two things has happened:
1) People are getting really excited about a series.
or
2) Someone has tweeted something insane like "Ummmm, Hunter x Hunter should be ACTUALLY illegal" and now thousands of people have responded to tell them how wrong they are.
Luckily, when I saw "Boruto" trending on Twitter this weekend, it was the former.

See, the amount of anime-only content in Boruto: Naruto Next Generations is what I'd call "sizable." It hasn't tackled a manga arc in quite a while, and it was only in the last few episodes with the Mujina Bandits arc that it seemed like Boruto was back on track to begin adapting more of the source material. It's been pretty fun (I wrote about how much I loved the Mujina Bandits leader's attempts to chow down on people), but I imagine fans of the manga watched with bated breath. Knowing Boruto, there's a good chance it could adapt this and then dive back into more anime-only stories.
Mind you, this isn't a bad thing for me. I've enjoyed most of Boruto's anime-specific arcs: The Time Slip arc in which Boruto went into the past with Sasuke was really fun and a nice celebration of Naruto's twentieth anniversary. However, I wouldn't say no to the anime giving us more dope stories straight from the tap.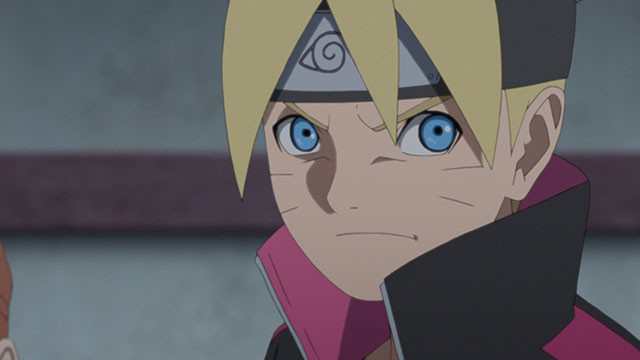 And with Episode 151, many manga readers are getting their wish in the newest opening, as we see members of the Kara Organization, a mysterious group that debuted all the way back in Boruto Chapter #15. They were teased at the end of Boruto Episode 151, with Sasuke and Boruto talking about the latter's seal and fans of the manga know them as a force to be reckoned with. So obviously, that's exciting.
But that's not all. The newest opening, "Hajimatteiku Takamatteiku," might contain a few things that are pretty familiar to long-time fans of the Naruto franchise:
The first is that this song was performed by the rock group Sambomaster, who also performed the fifth opening for the original Naruto, "Rhapsody of Youth."
The second is all the visual callbacks to that opening, including characters standing in front of chainlink fence...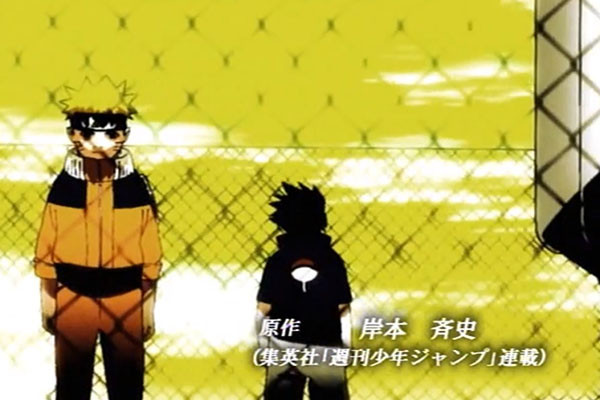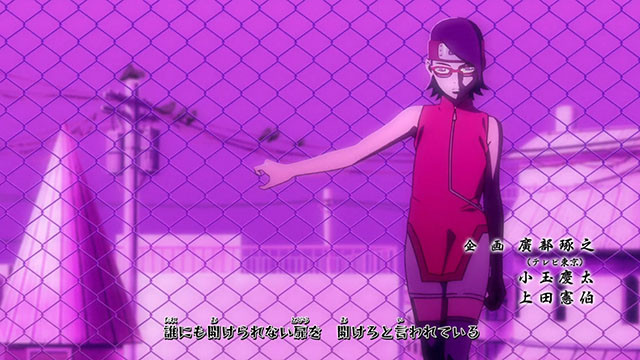 ...characters standing on a cliff, and obviously, a lot of characters doing a flawless Naruto run.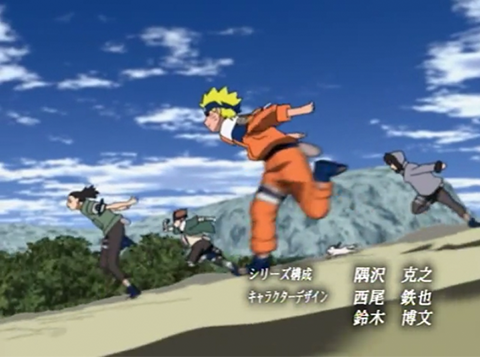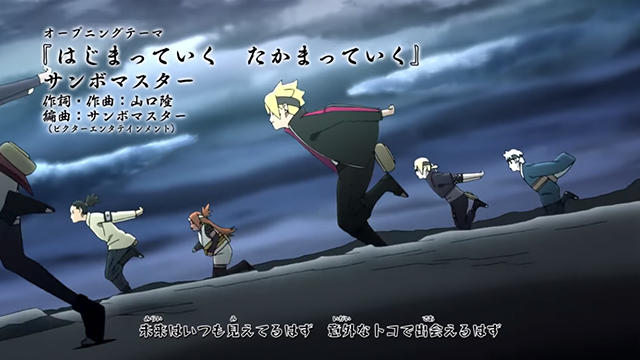 There were also some things like this that got me super excited: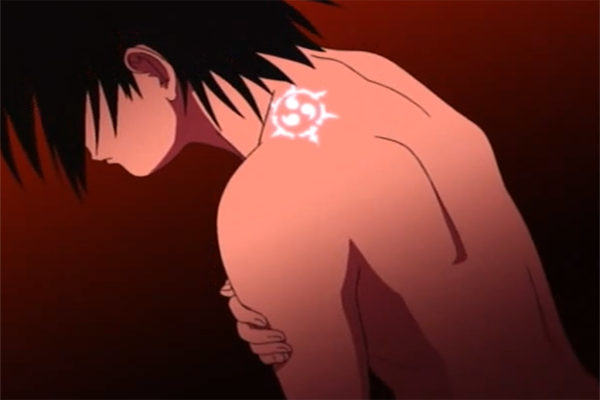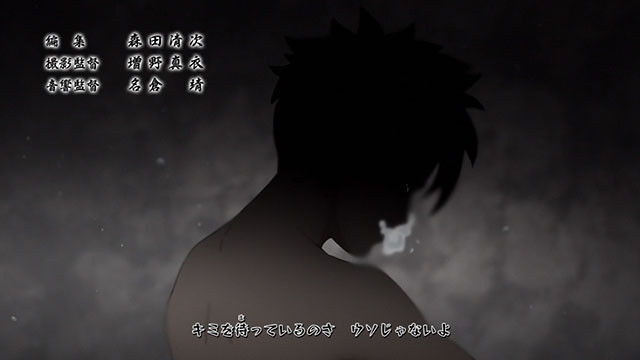 Manga readers know what I'm talking about here.
Overall, this all amounts to a perfect time to start Boruto, or get back into Boruto if you've dropped out for a bit. As I mentioned earlier, it's totally understandable if you only want to watch the manga canon parts. Heck, they've remade entire anime series just so they could more closely adhere to the original manga. They re-edited the entirety of Dragon Ball Z just so viewers wouldn't have to sit through Goku learning how to drive.
If you're hesitant to get into Boruto because you think it will be a Naruto ripoff, please throw those fears off the nearest cliff while you stand on it and look solemnly at a sunset. Because it isn't. I could go on all day about the minute details that set them apart, but I'll focus on the main difference here: A lot of Naruto was about discovery, about finding out who you really are and where you come from and what your place in the world is. It was about flipping the stone over and uncovering the truth behind the Hidden Leaf Village and the important people that hung out there.
Meanwhile, Boruto is about responsibility, about taking the lessons you've learned and doing right by people with them. It's about ensuring that the titular "Next Generation" has a fighting chance, while also raising them to be humble and confident. It's about passing on the legacy that was built in Naruto, while also not letting that legacy go to your head.
Naruto had to learn who he was, but Boruto has to learn who he shouldn't be.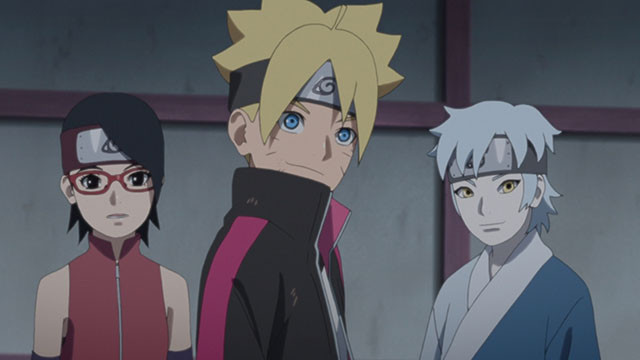 That said, both series share the same love for fast-paced ninja battles, intricate plot lines that are full of twists, and goofy humor. And if you watched Naruto and Sasuke duke it out in Naruto and Shippuden and you just wished they'd maybe spend more time fighting bad guys together and getting along just a little bit better, then Boruto has your back, friend.
There is not a more perfect time to get into Boruto: Naruto Next Generations than now. Maybe if we're lucky, "Boruto" will trend every weekend until the end of time. Sorry, political leaders, major sporting events, and memes. Boruto has you beat.
Are you excited about the next Boruto arc? What is your favorite thing about the series so far? Let me know in the comments!
-------------------------
Daniel Dockery is a Senior Staff Writer for Crunchyroll. Follow him on Twitter!
Do you love writing? Do you love anime? If you have an idea for a features story, pitch it to Crunchyroll Features!