You know what they say ... friendship is magic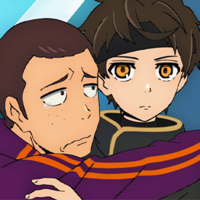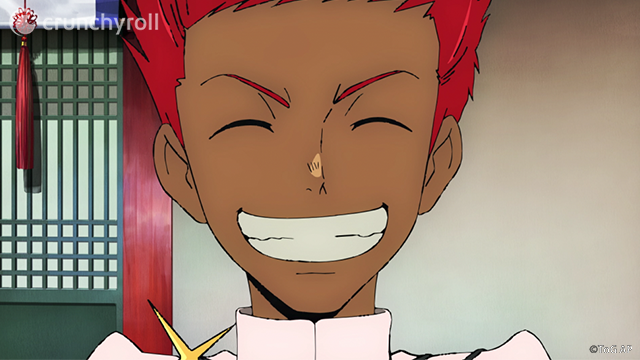 It's time for another episode of Kami no Tou! Last week we saw Endorsi and Anaak face off while Bam made friends with Serena, Shibisu, and Hatsu. How does the fight end? Where will Bam's new friendships take him? Let's find out!
Warning: spoilers for Tower of God Episode 7 "Lunch and Tag" below.
Once a woman becomes a Princess of Jahad, certain aspects of normal life are forbidden, like having children. And yet, Anaak's mother did, with a humble chicken pie chef. This makes Anaak a crime. The power of King Jahad given to Anaak's mother was passed to her daughter when she was born. Anaak was not chosen. This is why she is an imposter. Endorsi and Anaak's fight ends in a draw, both fighters tumbling off the platform at the same time. With their fight behind them, Endorsi admits Anaak was nice to her and asks if she ever regretted breaking the rule of Jahad's law. No. Anaak doesn't think so. They had a happy family life ... while it lasted.

Meanwhile, in Bam's class, Hoh is struggling using his Shinsu and becomes angry when he learns Lauroe has been helping Bam after Bam washed his drooly pillow after Serena got a hold of it. That's all right for Hoh, he later receives a mysterious message from someone claiming they can help him climb the Tower. Bam's friend-making continues as Shibisu and Hatsu are in need of two more friends before today's deadline. If they can't pull this off, they'll fail their tests. Bam helps them to reach their goal, recruiting bribing seriously injured Endorsi and Anaak with food deliveries.

Soon the friend-making is put on hold for the next test: a game of tag. The goal? Take the token from whoever is "It" or help the It escape. Bam ends up on the opposite team from most of his friends, who have chosen Khun as their It. Quant — the Administrator/It for Bam's team — enters into a fight with several of Khun's teammates single-handedly. It looks like he is easily winning but the rest of the Administrators are aware of Quant's main flaw: He gets reckless when he's angry.

Let's see what the fans had to say!
BAM IS THE SWEETEST KINDEST BABY WE MUST PROTECT HIM AT ALL COSTS NOTHING BAD BETTER EVER HAPPEN TO HIM OR WE GOING TO WAR #TowerofGod pic.twitter.com/402yn1JKiB

— Prince of the VIRGIN District (@Prince4Rachel) May 13, 2020
Do good & the universe will return good to you ???????? Baam is like a little angel going around & collecting friends without trying.. Too bad some are too jealous to embrace him ???? #TowerOfGod #tower_of_god #TowerOfGodAnime pic.twitter.com/3yjeIcXwnr

— 25th Ryōmen D. Sukuna ~ MAKIMA VILLAIN SZN (@ShadzMangaOnly) May 13, 2020
i think we can all agree that bam is incredible talented wonderful magnificent amazing beautiful extravagant spectacular adorable awesome cute praiseworthy admirable inspiring dazzling enchanting majestic outstanding marvelous showstopping entracing adorable charming#towerofgod pic.twitter.com/JZhDUxpwVe

— rei ✰ (@bam25ths) May 13, 2020
I loved how this episode shows how much Bam is as a kind, pure and genuine soul ????#TowerofGod pic.twitter.com/ChCCuPE8af

— Ri Gabᵀᴼᴳ ???? (@kingdomMazino) May 13, 2020
Bam is such a sweetheart.#神之塔 #TowerOfGod #tog pic.twitter.com/f9ibRtHQq6

— Ƹ̵̡Ӝ̵̨̄Ʒ (@lovingstyle2) May 13, 2020
Oh, and one for the Rak fans:
Rak's a legend #神之塔 #tog #TowerOfGod #KamiNoTou pic.twitter.com/LkaZkIaeTs

— RubenGallar ???? (@RubenGallar) May 13, 2020
Yes, yes he is.
Will Bam's team lose to Khun's or will all of our favorite friends make it past the test? Are ALL of Bam's friends really friends or are there a few traitors in the group? What was up with that suspicious note Hoh got? Let us know your (non-spoilery) thoughts in the comments!
READ THE OFFICIAL TOWER OF GOD WEBTOON SERIES

HERE

!

---
Carolyn is the Crunchyroll Features Editor. She's also on Twitter and Instagram. Follow her maybe?
Do you love writing? Do you love anime? If you have an idea for a features story, pitch it to Crunchyroll Features!