Seriously, massive spoilers ahead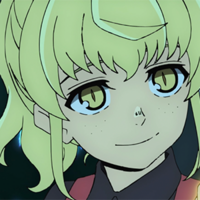 IT'S HERE. The moment so many have been waiting for. Which moment? Well, let's just say it's such a BIG SPOILER you'll have to read to the end of this article to find out. Seriously. This is a big ol' warning.
Do not read this recap unless you have already watched Tower of God Episode 12 "Underwater Hunt Part Two."


Ren gets excited thinking he's controlling Endorsi. But, of course, Endorsi has bonded with her little niece and spares her life. She'd rather have lunch with Anaak instead. She gives the little Lizard Girl the Green April in exchange for the Black March, and the two turn their attention to Ren. It works for a while, but Ren makes an effortless comeback — but his attack is cut short by Yuri, who has finally caught up with the group after stumbling across Shibisu. Yuri refuses to allow Ren to retrieve the 13 Month Series weapons for King Jahad, insisting she'll do it herself. Ren and Yuri face-off and because she's also a Ranker, the Princess quickly dominates the sneaky Rice Boy.
Rak easily outruns the stampeding Goblins but changes his mind mid-flight, deciding he'd rather stand and fight. Rak seems to be enjoying himself but Paracule grows more and more frightened as the Goblins close in. Suddenly the Regulars find themselves floating in the air — Lauroe has bothered to wake up long enough to get his teammates out of this jam. Right after redirecting the Pigs toward the Goblins, causing the Regulars' enemies to fight each other, instead. All according to Khun's plan, of course.
Oh, and during ALL OF THIS DRAMA, a new mysterious new person who looks an awful lot like Khun shows up and just ... shuts off surveillance cameras right as the Director and Lero-Ro are about to discover Yuri has crashed the Test. Who is this guy? He offers to take Khun to see Maria while the Director interrupts Evan and Kurdan with some nice coffee. He knew all along it was Yuri and that Evan and Kurdan were on their way. Evan realizes this is all a set-up and tries to warn Yuri not to help Anaak's daughter ... so she sets Kurdan on Ren, instead. Oh, and Khun turns down the chance to see Maria. But I have a feeling we'll be seeing this new guy again.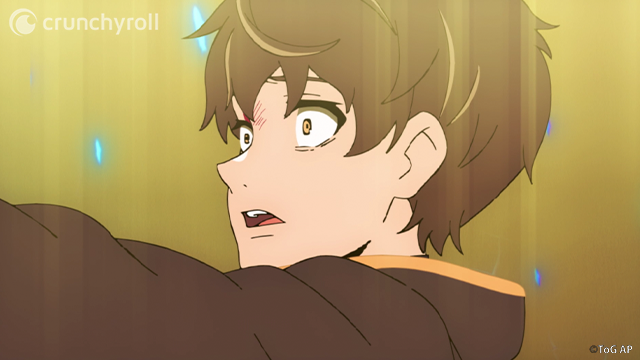 Meanwhile, Rachel and Bam haven't had much to do besides Bam talking a lot about how much he's changed since his days in the cave. The two have been floating in a big ball of Shinsu the entire time, just waiting to be eaten by a giant fish. In his dying moments, Ren sends the Bull after Rachel and Bam. Bam fights hard against the Bull and the two are finally eaten by the fish. Yay! And then Rachel stands from her wheelchair and shoves Bam right out of the Shinsu bubble. Oh no!


You can only imagine what #TeamBam fans had to say about this episode:
i just woke up and so..... it must've happened on tower of god this episode pic.twitter.com/k556bdSC8n

— ✰ ɖɨʋɨռɛ ✰ (@divinebankai) June 17, 2020
anime only fans of Tower of God must be fuming now.

— You're Wrong (@Yurzzzzz) June 17, 2020
#TowerofGod #webtoon
Top 10 Webtoon Betrayals
Featuring Rachel pic.twitter.com/HAEfFOKsxE

— Namaryu (@Namaryuu) June 17, 2020
I love seeing all the people who hadn't read the Tower of God WEBTOON and cheered for bam and Rachel now having to rethink their lives

— Terrance (@SpyTerrance) June 17, 2020
despair sadness hatred depression betrayal heartbroken.... i'm so sorry bam#towerofgod pic.twitter.com/ORHqBLrDlS

— eri ???? CHECK PINNED (@bam25ths) June 17, 2020
I HATE RACHEL SO MUCH, WHAT WAS THE REASON???#towerofgod pic.twitter.com/joh4iTv1zf

— ju (@stalkyoos) June 17, 2020
Oh, and a couple of tweets were dedicated to the handsome new guy:
Who are you, why do you look like Aguero, why are you hot too ???? #神之塔 #TowerofGod pic.twitter.com/LujBJSbhxb

— ????????????????????????| ????????: ???????????????????? ???????????????????????? (@ariyachaan) June 17, 2020
Well, if Aguero ain't going with him, I will ????#神之塔 #TowerofGod pic.twitter.com/FwMFQhCcMk

— ????????????????????????| ????????: ???????????????????? ???????????????????????? (@ariyachaan) June 17, 2020
How did YOU react to THAT moment? Let us know in the comments!
READ THE OFFICIAL TOWER OF GOD WEBTOON SERIES

HERE

!

---
Carolyn is the Crunchyroll Features Editor. She's also on Twitter and Instagram. Follow her maybe?
Do you love writing? Do you love anime? If you have an idea for a features story, pitch it to Crunchyroll Features!