Many conventions have had to reschedule due to the ongoing pandemic. Here's a list of the ones that are still going to happen, one way or another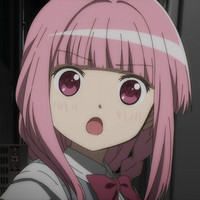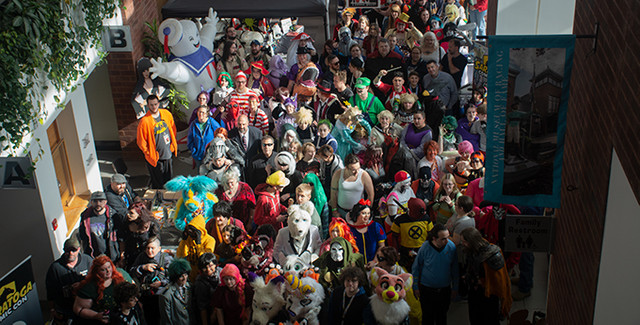 Photo by Kevin Matyi
Editor's note 6/20: The following post has been updated to include FunimationCon, Otakon.Online, KuroCon and Anime NYC. Separately, we have removed Kawaii Kon which is now scheduled for April 23-25 2021.

With COVID-19 continuing to shut down events and businesses, and the potential of a second wave coming later in the year, anime conventions have needed to adapt and consider the safety of bringing large groups of people close together.
As a result, many conventions have shut down for the year, promising to return next time, some have been postponed to see if the COVID-19 situation changes, and others have moved to virtual conventions to adapt to the current environment. For example, our own Crunchyroll Expo is now a virtual convention scheduled for September 4-6.

With all of the confusion and rapid changes though, it's difficult to know what conventions are still going to happen at all in 2020. To help out, here's a list of every anime convention still happening this year, including when it's occurring and a link to its website for more information. Check back for updates as situations change.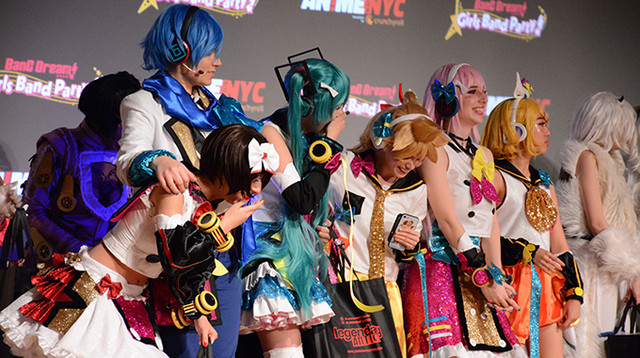 Photo by Kevin Matyi
Here are the remaining conventions still scheduled to happen in some form during 2020:
Anime Expo Lite
"Anime Expo is the largest anime con around, with over 100,000 fans in attendance. Grab your friends, craft your cosplay, and get ready to experience anime like never before."
When/Where: July 3-4; Virtual
Website
FunimationCon
"A two-day stream of cosplay meetups, industry panels, Q&A sessions, and more."
When/Where: July 3-4; Virtual
Website
Aniplex Fest Online
"The festival will feature a diverse array of online content including talk shows with the staff and cast from popular anime, special appearances and past live shows from music artists, and behind-the-scenes stories from the anime industry!"
When/Where: July 4-5; Virtual
Website


KuroCon
"Kurocon is a free online convention born out of the desire to host an event to replace the ones we lost in these difficult times. Organized by a bunch of friends and comrades in the anime/game/manga/music/Japan culture space, for the community."
When/Where: July 4-5; Virtual
Website
OokiiSoraCon
"OokiiSoraCon was formed in 2017 with the mission to develop an ever growing gaming, anime, entertainment and culture driven convention that is affordable and accessible to Montana and the Northwest."
When/Where: July 11; Virtual mini-convention
Website
Okashicon
"Okashicon At Home will be a community-driven, virtual two-day event on July 18-19, 2020. Leading up to July 18th, however, we'll be hosting a number of contests and providing quality content to bring you together with the community you know and love."
When/Where: July 18-19; Virtual
Website
KuroNeko Con
"Get ready for the premier anime convention in Spokane, Washington! Three exciting days of Japanese culture and pop culture at the Spokane Convention Center!"
When/Where: July 18; Virtual
Website
AnimeIowa
"AnimeIowa is the largest anime convention in Iowa and still growing, hosting well over 3000 attendees each year."
When/Where: July 31-Aug. 1; Virtual
Website
Otakon.Online
"A full day of interviews, panels, builder workshops, music, and gaming events across multiple channels. We'll have special appearances from some of our guests who were scheduled to be with us in DC this year, and we'll have lots oppurtunities for you to participate as well!"
When/Where: Aug. 1; Virtual
Website
PopCult Anime Con
"We want to make PCAC feel like a summer vacation compared to more crowded and heavily scheduled cons. A place with all the same great programming, such as the Masquerade, AMV contest, game shows and exhibitors' room; as well as less common and more relaxing activities like evening dances, blanket fort building workshops, intimate guest opportunities or taking a dip in one of the Sheraton Framingham's two beautiful pools!"
When/Where: Aug. 15-16; Virtual
Website
Otakuthon
"Otakuthon est le plus grand festival bilingue au Canada célébrant la culture pop japonaise! | Otakuthon is Canada's largest bilingual festival celebrating Japanese pop culture!"
When/Where: August; Virtual
Website
Crunchyroll Expo
"We are excited to announce Virtual Crunchyroll Expo, a digital event that celebrates the best and brightest in anime. Join us September 4 - 6 as we come together with our passionate community for amazing guest panels, interactive events, special announcements and more."
When/Where: Sept. 4-6; Virtual
Website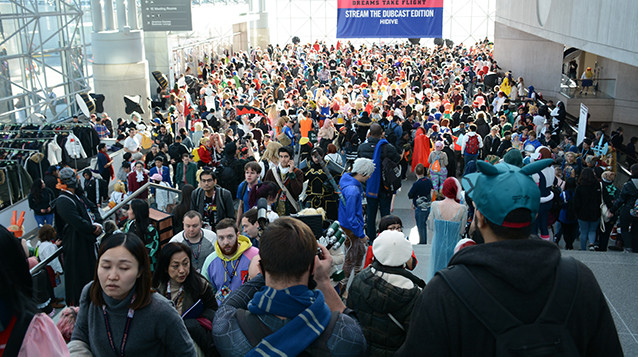 Photo by Kevin Matyi
A few conventions are still going the conventional, in-person route (for now). Think carefully about the risks of attending and please wear a mask if you do, and please note that the dates and/or the availability of the convention can change at any time.

Ani-Me Con
"Ani-me Con is the largest anime convention in the central valley!"
When/Where: July 11-12; Fresno, CA
Website
Delta H Con
"Delta H Con is the budding flower of hobby Gaming enthusiasts and Anime aficionados in the southern United States."
When/Where: July 17-19; Houston, TX
Website
Feria Mundo Anime
"Feria Mundo Anime, the convention of anime, comics, video games and entertainment in the Dominican Republic and one of the largest in Latin America."
When/Where: July 25-26; Santo Domingo, Dominican Republic
Website
Anime Sekai
"Anime Sekai is a 3-day convention that celebrates Japanese culture, geek culture, anime & manga, cosplay, tabletop & video gaming, comics, TV shows, movies, and much, much more!"
When/Where: July 31-Aug. 2; Abilene, TX
Website
Anime: Roseville
"Roseville's anime convention."
When/Where: Aug.2; Roseville, CA
Website
Anime Houston
"Join your fellow anime fans in talking about your favorite anime and cosplays. Come together and learn about anime, video games, and more."
When/Where: Aug. 7-9; Houston, TX
Website
SaikouCon
"SaikouCon, which means 'best convention', is the annual anime convention of Pennsylvania's Pocono Mountains with several side events in the Lehigh Valley, boasting a dedicated staff of longtime Japanese anime and manga fans."
When/Where: Aug. 7-9; White Haven, PA
Website
Kin-Yoobi Con
"It's Kin-Yoobi Con's thirteenth year hosting a cosplay gathering & contest, video gaming & tournaments, panel discussions & workshops, dealers hall & artists alley, live music performances, and free food!"
When/Where: Aug. 9; Union City, CA
Website
Star Con Leon
"Donde la estrella eres tu!"
When/Where: Aug. 14-16; Gto, MX
Website
Ani-Medford
"SOUTHERN OREGON's ONLY anime convention."
When/Where: Aug. 15; Medford, OR
Website
Superstar Anime
"SUPERSTAR ANIME is a new annual 2-day convention held in Virginia Beach, VA or fans of Japanese Animation, Entertainment, and Culture."
When/Where: Aug. 15-16; Virginia Beach, VA
Website
Liberty City Anime Con
"The best three-day anime convention in New York City."
When/Where: Aug. 21-23; New York City, NY
Website
Tiger Con
"Welcome to Tiger Con III. The third year of Valdosta's anime, gaming, cosplay and comic convention."
When/Where: Aug. 22-23; Valdosta, GA
Website
Anime Magic
"We're a convention by fans, for fans with a focus on FUN. This isn't your typical cookie-cutter convention! We have all the normal fanfare you've come to expect from other conventions, while pushing the boundaries even further."
When/Wherel: Aug. 28-30; Schaumburg, IL
Website
MizuCon
"MizuCon is an annual convention that celebrates Anime and Japanese culture."
When/Where: August (and ongoing livestream events); Miami, FL
Website
Colossalcon
"Colossalcon is a Japanese animation convention held in Northern Ohio during the beginning of June each year, and prides itself with being the region's kick-off to the start of summer vacation."
When/Where: Sept. 2-6; Sandusky, OH
Website
Nan Desu Kan
"For us, the love of anime and Japanese culture isn't just a marketing tool or a nifty side feature on our schedule; It's our purpose for existing and a mandate of our Nonprofit Charter. We bring people together to further the knowledge of Japanese Art, animation and culture, and welcome people from all over the region under our roof."
When/Where: Sept. 4-6; Aurora, CO
Website
SacAnime
"SacAnime is the show where 'Fans Come to Play'. Our philosophy has always been to provide fun, safe, family friendly environment, with top shelf entertainment at a reasonable price."
When/Where: Sept. 4-6; Sacramento, CA
Website
San Japan
"San Japan is the Largest Anime & Gaming Convention in the South Texas Region."
When/Where: Sept. 4-6; San Antonio, TX
Website
Saboten Con
"Saboten Con is the largest anime convention in Arizona with attendance reaching 13,298 (unique) / 37,983 (turnstile) for the 2018 event."
When/Where: Sept. 4-7; Phoenix, AZ
Website
Animex
"ES EL EVENTO DE CÓMICS, ANIME Y ENTRETENIMIENTO MÁS ANTIGUO DEL NORTE DEL PAÍS. BIENVENIDO A #ANIMEX"
When/Where: Sept. 5-6; Monterrey, MX
Website
RTX Austin
"RTX is the world's greatest celebration of gaming, animation, comedy, and internet culture."
When/Where: Sept. 5-7; Austin, TX
Website
CampAnime
"A summer-camp and anime convention hybrid that is perfect for all ages, families, geeks, & otakus of every kind. With activities like boating, archery, and rock-climbing, & panels for every fandom and interest, there's something for everyone at CampAnime."
When/Where: Sept. 11-13; Woodstock Valley, CT
Website
Star Con Lagos de Moreno
"Donde la estrella eres tu."
When/Where: Sept. 12-13; Jal, MX
Website
Anime USA
"At its heart, Anime USA seeks to discuss and promote anime; other associated arts such as storytelling, costuming, and voice acting; and Japanese culture at large."
When/Where: Sept. 18-20; Washington, D.C.
Website
Colossalcon East
"We offer the most fun you will ever have at an anime, gaming, and Japanese culture convention."
When/Where: Sept. 18-20; Pocono Mountains, PA
Website
Crystal Millenium Convention
"The Crystal Millennium Convention, also known as Crystal Con, is an anime themed event held in Vancouver, Canada dedicated to the magical girl genre, specifically the groundbreaking 1992 Japanese animated series Pretty Soldier Sailor Moon."
When/Where: Sept. 18-20; British Columbia, CA
Website
Ramencon
"Ramencon was built by anime fans for anime fans. We get a lot of our ideas from the fans. We want you to feel that this is your convention."
When/Where: Sept. 25-27; South Bend, IN
Website
Senshi Con
"Senshi Con is an annual convention that caters to enthusiasts of Asian culture, animation, graphic novels, and gaming held in Anchorage, AK."
When/Where: Sept. 25-27; Anchorage, AK
Website
KimiKon
"We aim to service and celebrate our local talents as well as showcasing international ones, by creating an outlet of expression for them through the next big convention in Toronto, KimiKon!"
When/Where: Sept. 26-27; Ontario, CA
Website
Queen City AniFest
"Queen City AniFest is a single-day convention held to celebrate anime, games, all things nerdy in Regina and the surrounding area."
When/Where: Oct. 3; Saskatchewan, CA
Website
Super Dimension Convention
"Originally known as 'MacrossWorld Convention', Super Dimension Convention (SDCon) is the largest gathering of Macross fans in North America!"
When/Where: Oct. 3; Torrance, CA
Website
Pop Culture Convention
"Pop Culture Con is a convention that brings together the talents and passion of local fans and businesses; created to be a safe place where people can come and geek out either as an attendee, guest, or volunteer. A convention that local fans can call their own."
When/Where: Oct. 9-10; Provo, UT
Website
Tsubasacon
"Tsubasacon is West Virginia's first Anime, Gaming and Cosplay convention."
When/Where: Oct. 8-10; Charleston, WV
Website
Bakuretsu Con
"Bakuretsu Con is Vermont's premiere anime convention! Our family-friendly event draws approximately 600 attendees, and is sponsored by The Anime Society of Vermont, a public, non-profit organization whose primary mission is to promote cultural awareness and diversity through the celebration of anime and manga."
When/Where: Oct. 16-18; Colchester, VT
Website
Animatic Con
"Animatic Con started in March of 2015 with the idea of delivering to the fandoms across the U.S. a convention that was fun, and had a higher purpose. After much consideration and discussion, we decided that we wanted to help raise funds for Autism, and with that we wanted to create a convention that welcomed people with limitations, and accommodate to their needs."
When/Where: Oct. 16-18; Cincinnati, OH
Website
Anime Banzai
"Presented by UAP, a 501(c)(3) nonprofit corporation, this three-day weekend is filled with anime, manga, gaming, Asian culture, guests, panels, games, contests, kids' events, viewing rooms, an Artist's Alley, an Exhibitor's Hall, silent auctions for various charities, two dances, and so much more."
When/Where: Oct. 16-18; Layton, UT
Website
Anime Fusion
"Anime Fusion is truly a convention for all ages, with many family-friendly activities along with 18+ restricted programming for the older crowd. With our family discount options, it's the perfect place for parents and children to share their love of anime and games. Our nightlife features dances and room parties, and the daytime hours are filled with panels and activities."
When/Where: Oct. 16-18; Plymouth, MN
Website
AnimeCon Arkansas
"Join us for a magical celebration of fandoms, geeky stuff, animation, art, music, and everything else beautiful!"
When/Where: Oct. 16-18; Little Rock, AK
Website
Another Anime Convention
"Another Anime Convention is a run by people who love Japanese culture especially Japanese animation. It is a place for fans to gather in New Hampshire for a three day convention to enjoy events, special guest's and other media that celebrate aspects of Japanese culture."
When/Where: Oct. 16-18; Westford, MA
Website
YumeconUSA
"YumeCon staff aspires to create a more intimate con experience than what you might find at a large scale convention. Enjoy cosplay, gaming, panels, and a maid cafe in a friendly environment."
When/Where: Oct. 17; Palo Alto, CA
Website
Kantaicon
"Kantaicon is an anime event that will be held on Oct 24th, 2020 at the AAF Tank Museum. Vendors and Artists will be selling their wares and cosplay is encouraged!"
When/Where: Oct. 24; Danville, VA
Website
Anime Weekend Atlanta
"AWA has been recognized as one of the most popular Japanese Animation conventions in the United States, and one of the top ten attended anime conventions in North America. In 2016, over 28,000 people attended the event."
When/Where: Oct. 29 - Nov. 1; Atlanta, GA
Website
Youmacon
"Youmacon is a celebration of Japanese animation, videogames, popular culture and costuming, and its influence on our own culture over the past few decades."
When/Where: Oct. 29 - Nov. 1; Detroit, MI
Website
Banzaicon
"While Banzaicon is a Japanese anime convention, we offer a wide variety of programming options by diverse members of the community throughout the course of the weekend which include our costume contest, dances, events and discussions featuring anime industry guests, game shows, and a wealth of educational seminars and workshops about not only anime, but manga, video games and aspects of Japanese culture as well."
When/Where: Oct. 30 - Nov. 1; Columbia, SC
Website
DerpyCon
"DerpyCon is New Jersey's Anime, Gaming, Sci-Fi, and Comic Convention, bringing every nerdy genre under one roof."
When/Where: Oct. 30 - Nov. 1; New Brunswick, NJ
Website
Lumi-Con
"LUMI-CON is a Florida Halloween Convention based off Animation, Video Games, Cosplay and Interactive events!!"
When/Where: Oct. 30 - Nov. 1; Tampa, FL
Website
Oni-Con
"Oni-Con offers many things to do such as: anime viewing rooms, a manga lounge, table top and card gaming, an arcade, concerts, contests, dances, demonstrations, a masquerade and various panels."
When/Where: Oct. 30 - Nov. 1; Galveston, TX
Website
Anime Festival Orlando
"Anime Festival Orlando has earned the title of "Florida's Favorite Anime Convention" as well as being voted one of the "Top 10 Things To Do In Orlando" by DK Publishing's Travel Guide."
When/Where: Nov. 6-8; Orlando, FL
Website
Anime Nebraskon
"Anime NebrasKon is Nebraska's longest running Anime Convention! Our mission is to connect all people and community through Japanese animation and pop culture with education and activity."
When/Where: Nov. 6-8; Omaha, NE
Website
NekoCon
"NekoCon is Virginia's oldest and longest running anime convention. Spanning nearly two decades, NekoCon is dedicated to bringing you the finest in entertainment from the world of anime, educating it's attendees on Japanese culture, and expanding horizons with new and innovative programming."
When/Where: Nov. 6-8; Hampton, VA
Website
Anime Iwai
"With a decade on convention experience behind us, we have both learned a lot about how to run a convention and seen the changes that have taken place within the con community over the years. We are proud to have contributed this labor of love to a community and a culture that has provided us entertainment, insight, and so much more."
When/Where: Nov. 13-15; Fort Lauderdale, FL
Website
SNAFU Con
"Sierra Nevada Anime Fans Unite Convention (SNAFU Con) is a collaborative effort of local anime, game, comic-book, and science-fiction fans. Our goal is to provide a convention that will benefit both the producers within the local area and community at large. The primary goal is to connect local fans to each other as well as producers and retailers, allowing them to interact with their customers in a fun and relaxed setting."
When/Where: Nov. 13-15; Reno, NV
Website
J-1 Con
"Are you a fan of animation, cosplay, gaming (tabletop, card and console), artists, vendors, panels, and live music? You've come to the right convention! You can enjoy all of that here, for a GREAT PRICE!"
When/Where: Nov. 14-15; Atlantic City, NJ
Website
Anime NYC

"Anime NYC is New York City's anime convention! A showcase of the best of Japanese pop culture in the biggest city in America, Anime NYC brings anime fans and publishers together for three days of unique exhibits, exclusive screenings, extensive panels, and appearances by some of the biggest creators in Japan"
When/Where: Nov. 20-22; New York City, New York
Website
Con-Nichiwa
"Con-Nichiwa is the largest anime convention in Tucson Arizona with attendance reaching over 2,000 yearly."
When/Where: Nov. 20-22; Tucson, AZ
Website
Sin City Anime
"Our mission is to create and orchestrate an anime convention focused on three values. Entertainment, Inclusion, and Guest Hospitality."
When/Where: Nov. 20-22; Las Vegas, NV
Website
Pacific Media Expo
"Pacific Media Expo is a new generation of convention for a new generation of fans! PMX brings the cutting edge of Asian entertainment to America, whether it is the newest anime from Japan, the hottest bands from the Pacific Rim, the latest street fashion from Harajuku, or the most disturbing horror films from Asia."
When/Where: Nov. 21-22; Pasadena, CA
Website
Anime Pasadena
"Now in our 3rd year, we are creating an awesome 2 day event with a focus on Anime, Cosplay and Nerd Culture in Pasadena, California."
When/Where: Nov. 28-29; Pasadena, CA
Website
Holiday Matsuri
"Holiday Matsuri is a multi-genre convention that brings the members of our community together during the holidays to have fun and give back!"
When/Where: Dec. 18-20; Orlando, FL
Website
Know of a convention we missed? Tells us about it in the comments!
---
Kevin Matyi is a freelance features writer for Crunchyroll. He's been watching anime for as long as he can remember, and his favorite shows tend to be shonen and other action series.
Do you love writing? Do you love anime? If you have an idea for a features story, pitch it to Crunchyroll Features!