Onto Episode 6 of Re:ZERO -Starting Life in Another World-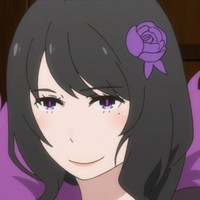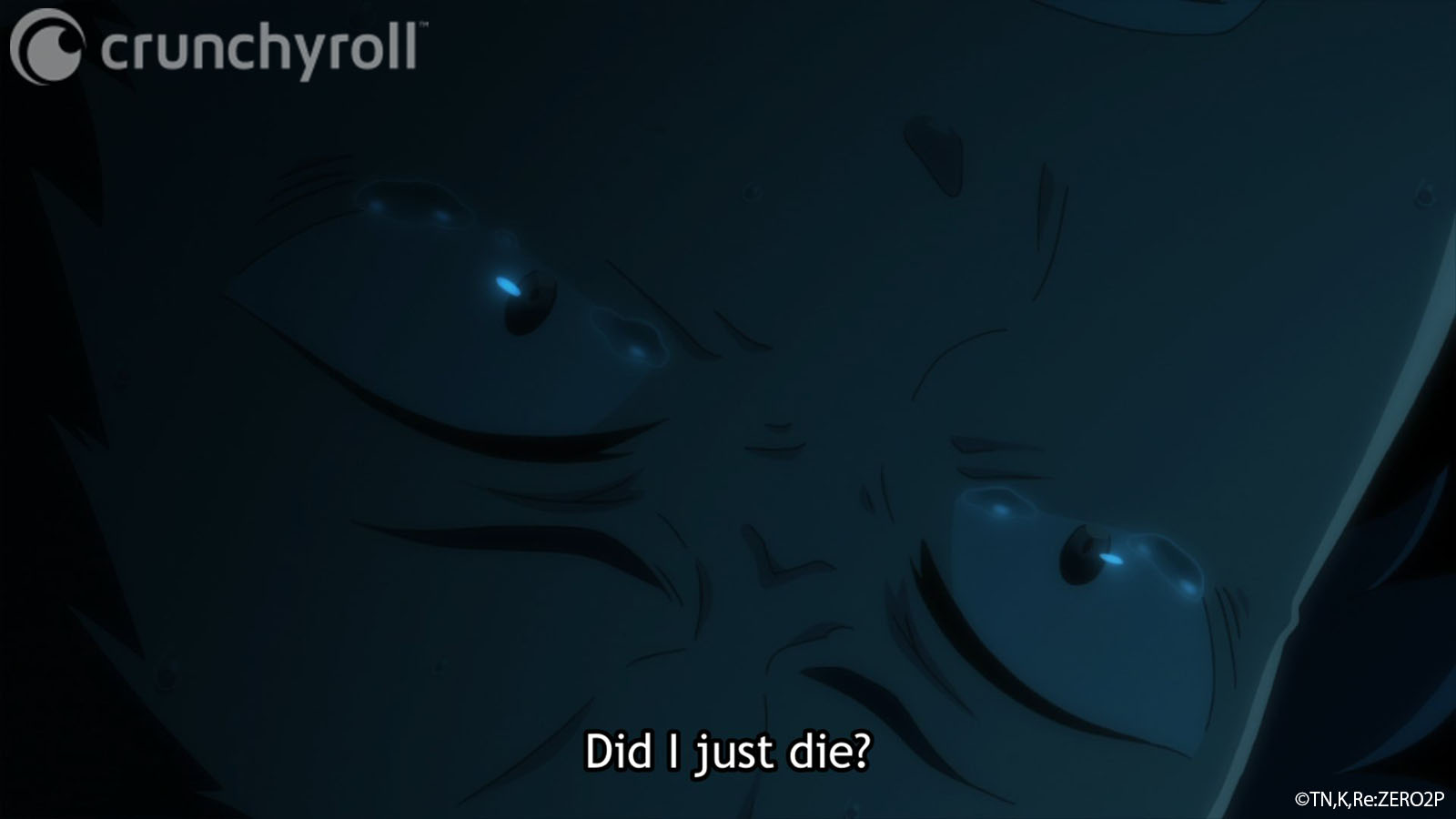 **SPOILERS FOR RE:ZERO -STARTING LIFE IN ANOTHER WORLD- SEASON 2, EPISODE 6 AHEAD**
Just when Episode 5 had finally given us the season's opening at the beginning, Episode 6 stripped it away. This direction choice (in Re:ZERO especially) tends to dictate a darker tone within the contents of the episode.
And boy, was it grim. Shall we?
The last episode concluded with Subaru returning to Roswaal's manor and quickly being met with a brutal death from our old pal Elsa. We then transition into this episode, which begins with Subaru waking up from his most-recent "Return by Death." While immensely confused as to why Elsa was there in the first place, Subaru is sure of one thing — he must save Rem with his newfound knowledge of the future. Thus, the gang gathers at the house for another roundtable discussion.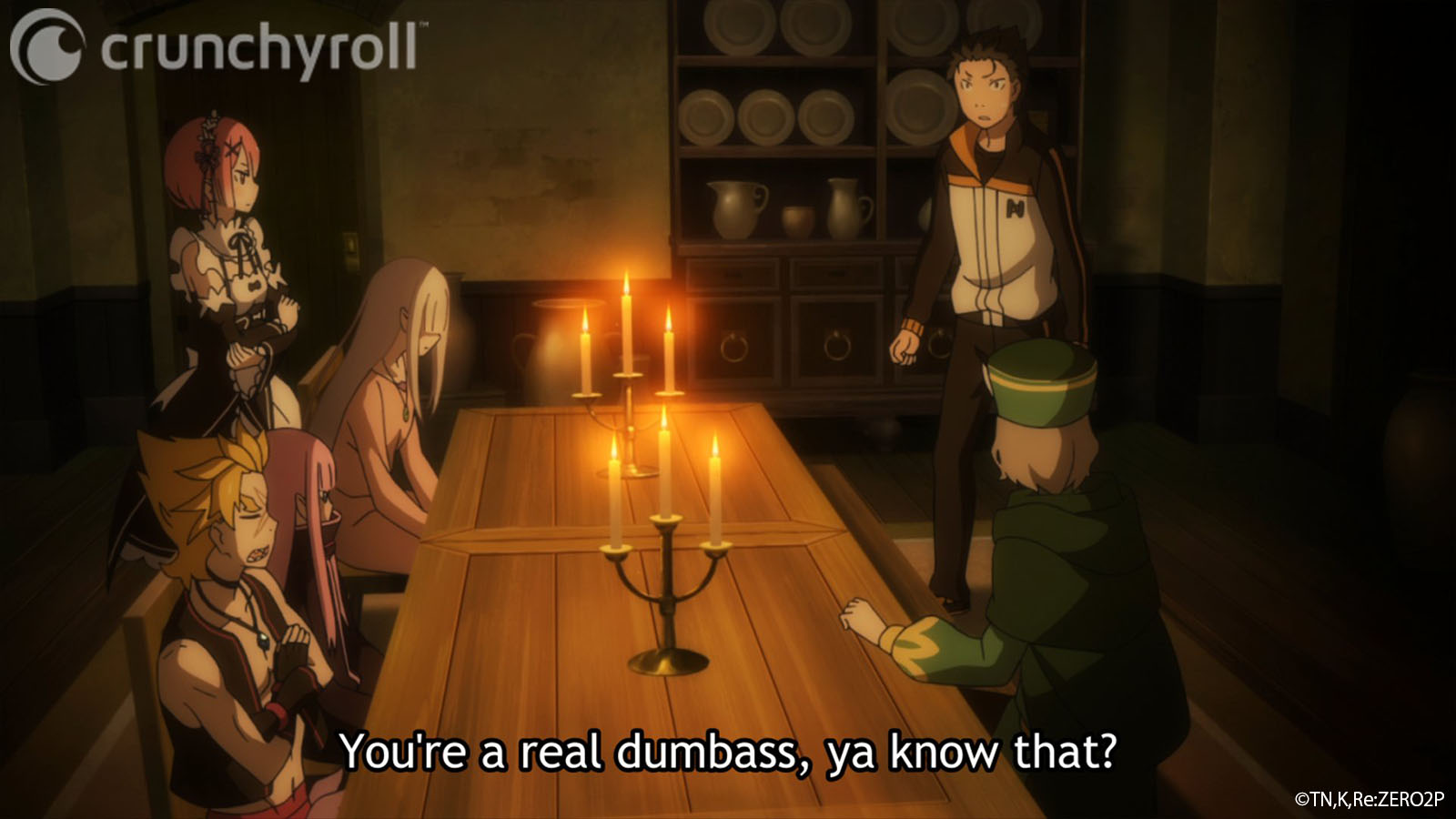 With a different approach to the timeline, Subaru decides that it's best for him to explain his experiences with the trial, instead of keeping it secret. Given that his trial was successful, he offers to complete the others in Emilia's stead.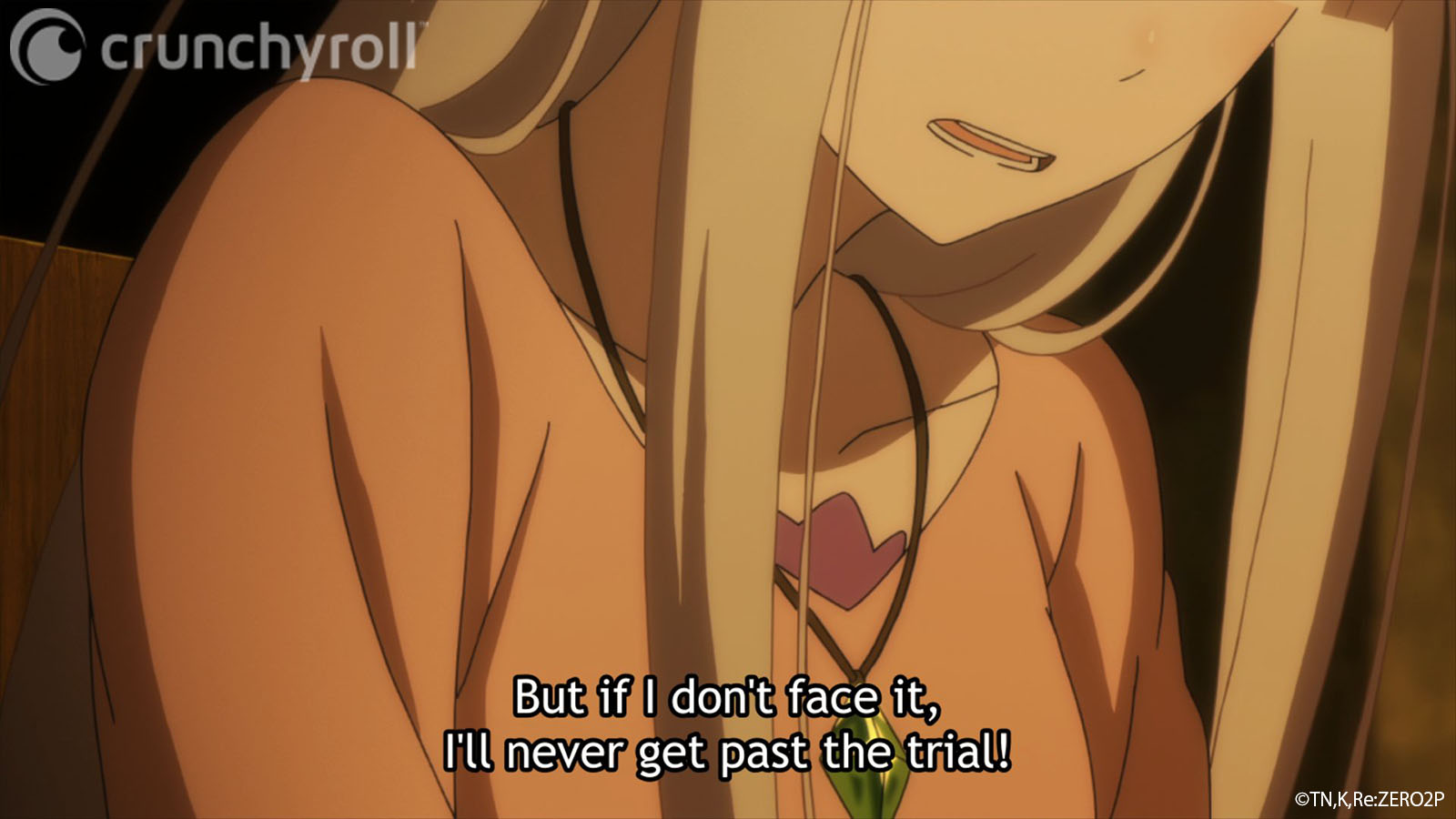 Emilia immediately refuses. Driven by passion, she explains that it's her responsibility to ace the trial and overcome what haunts her. From there, the meeting is adjourned and you can see Subaru's disappointment in himself from initially failing to understand Emilia's feelings; but he quickly snaps out of hit and decides that the next course of action is to storm the mansion two days earlier than the last timeline. Hoping to thwart Elsa's plans.
Subaru is very skeptical of Frederica and her possible affiliation with Elsa. Before departure, Subaru voices this concern to Roswaal, and he surprisingly receives Roswaal's support. As a result, Ram accompanies Subaru.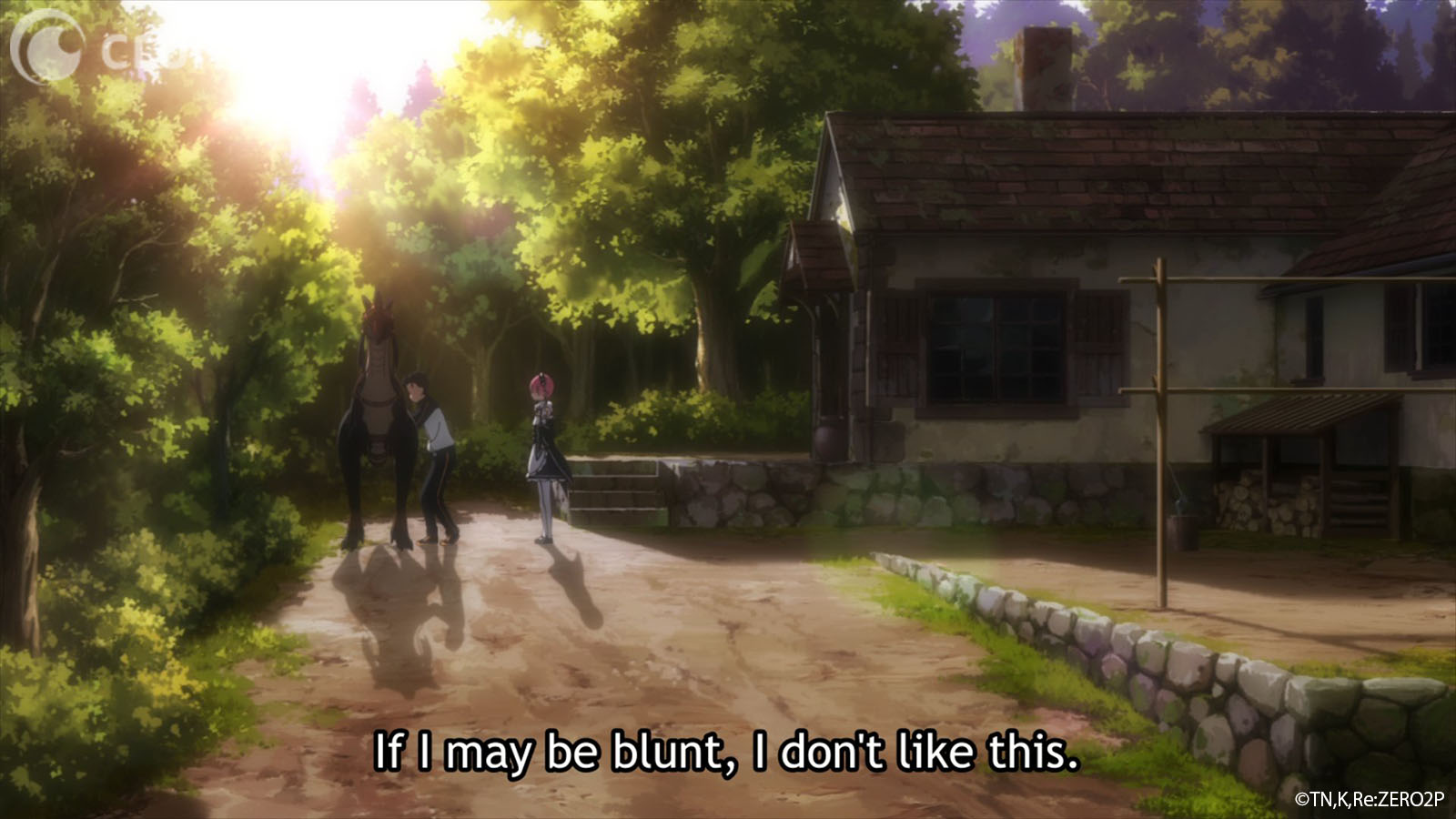 Ram feels uneasy, and the two have a meaty conversation as they ride to the mansion. Within this conversation, Subaru sincerely reminds Ram how much Rem meant to her before the incident took place. Emphasizing that she's the one person who Ram actually cares about more than Master Roswaal.
Time flies and the two arrive, where they're adorably greeted by Petra.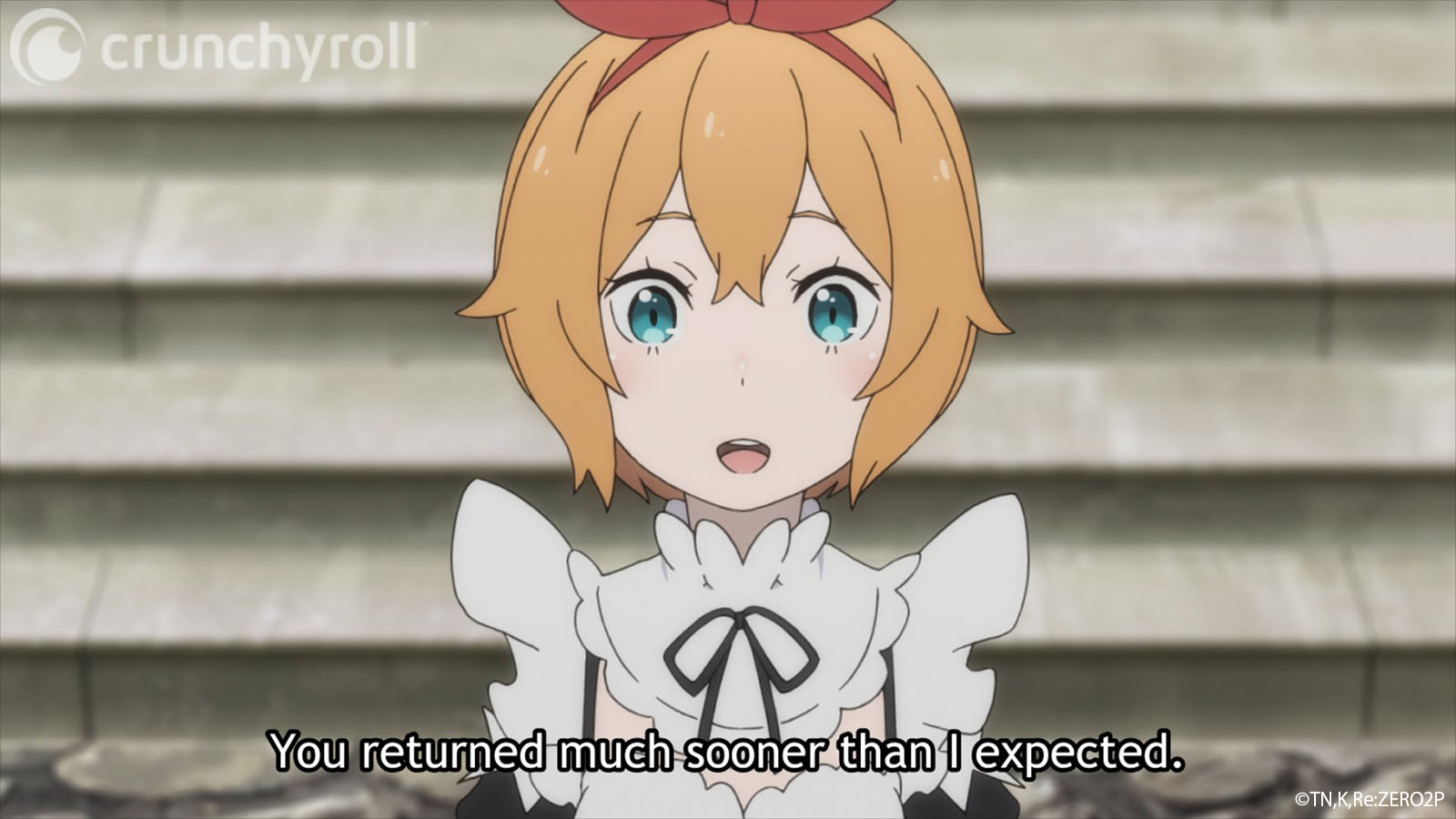 We bask in this, without knowing it would be one of the last lighthearted moments in the episode.
Subaru and Ram commence to the mansion with their first stop being unconscious Rem's room. Ram politely asks Subaru to give them some alone time, and Subaru obliges. We can assume that something important takes place when Subaru leaves, but there's no indication as to what that might be.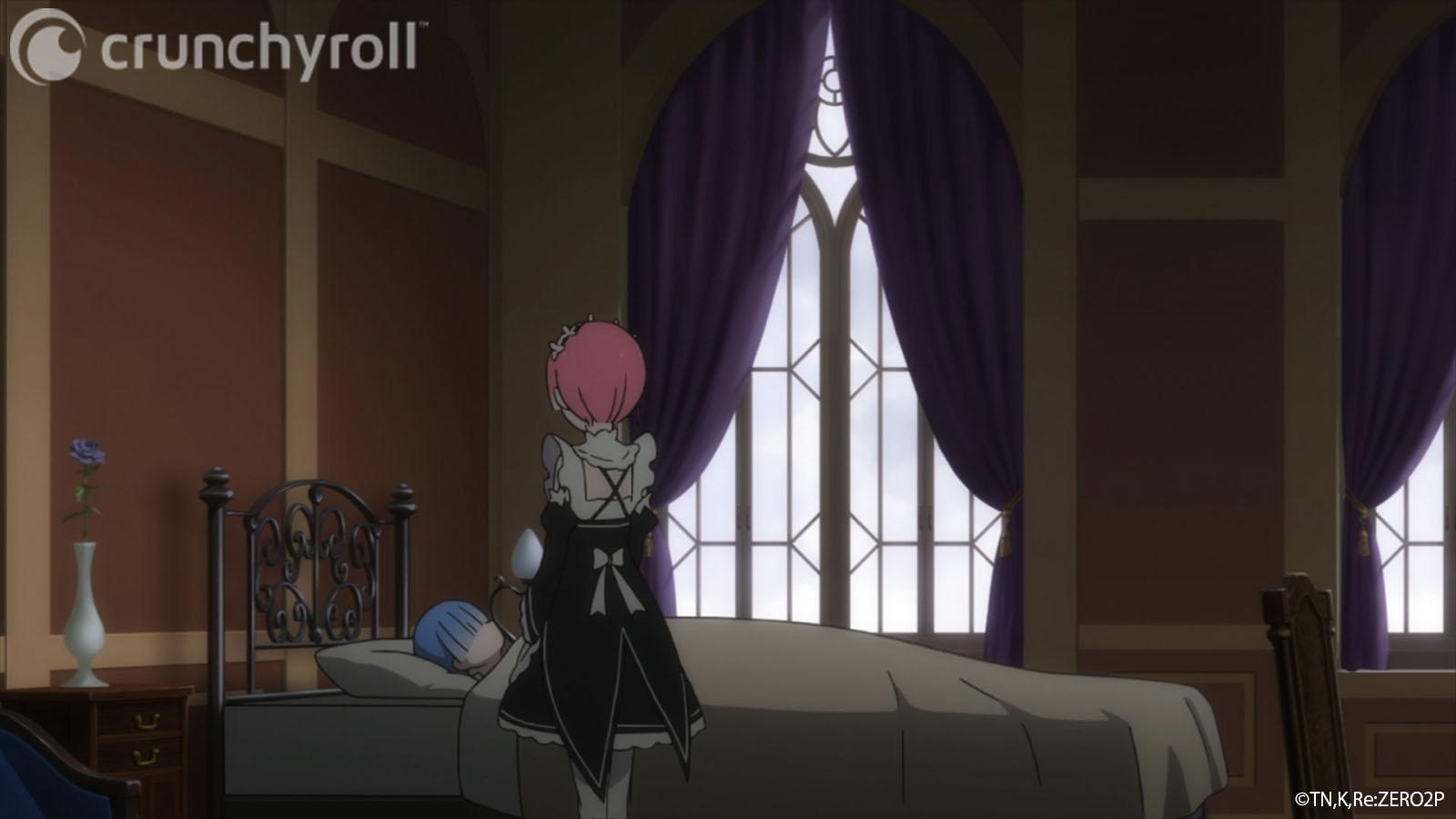 Afterward, Subaru meets up with Frederica. They start with some small talk, and Subaru then proceeds to confront her with all of his suspicions.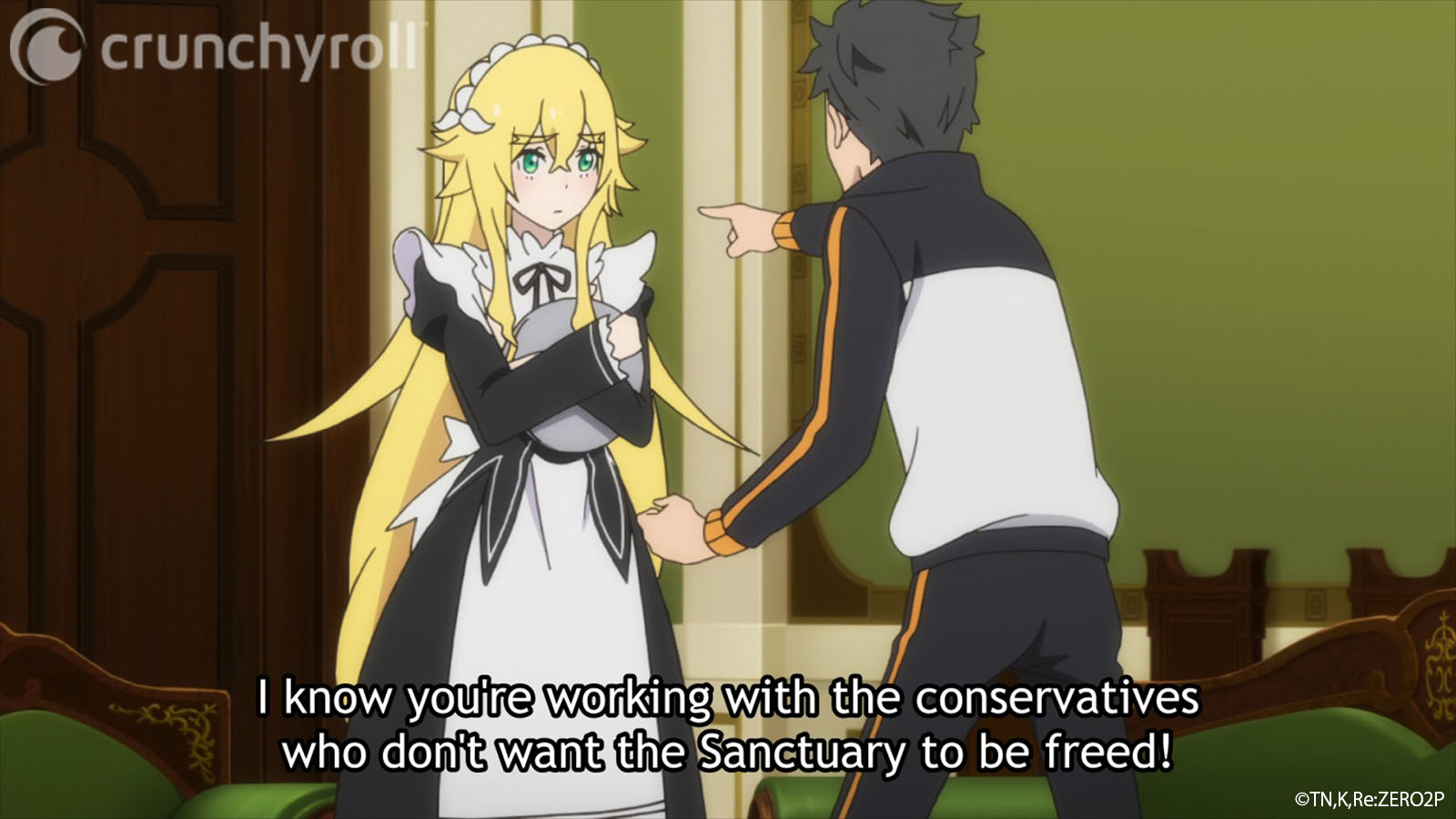 Ram enters the room moments later. Her and Frederica exchange some tense words, and Ram perceives that Frederica is bound to secrecy by some kind of oath. She cannot answer their questions about her free will.
It's then the scene is interrupted by the assailant. Elsa.
And ... her hostage.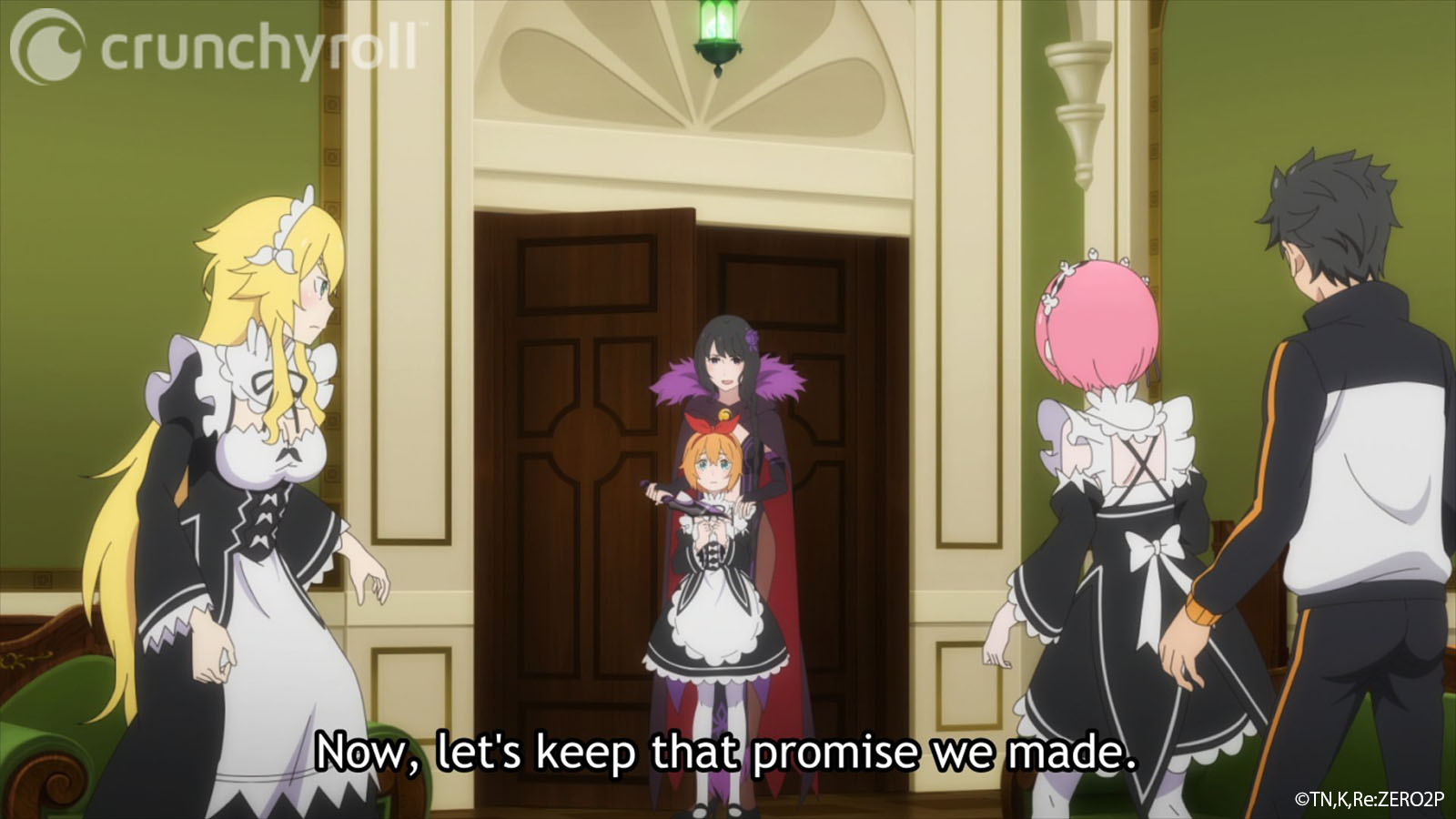 The rest of this episode delivers the most animated action that Season 2 has seen thus far. To be frank, screencaps wouldn't do it justice. Ram's magic and Frederica's beast form transformations take the helm as they clash with bloodthirsty Elsa. Subaru prioritizes keeping Rem, Petra, and Patrasche safe.
Next, we skip to multiple chaotic sequences of calamity that end with Subaru bloodied on the floor of the mansion. When the intensity settles, he thinks that he and Patrasche are safe; unfortunately, that's not the case. Instead, he's holding Patrasche's severed arm in what I felt was the most CHILLING scene in the entire series.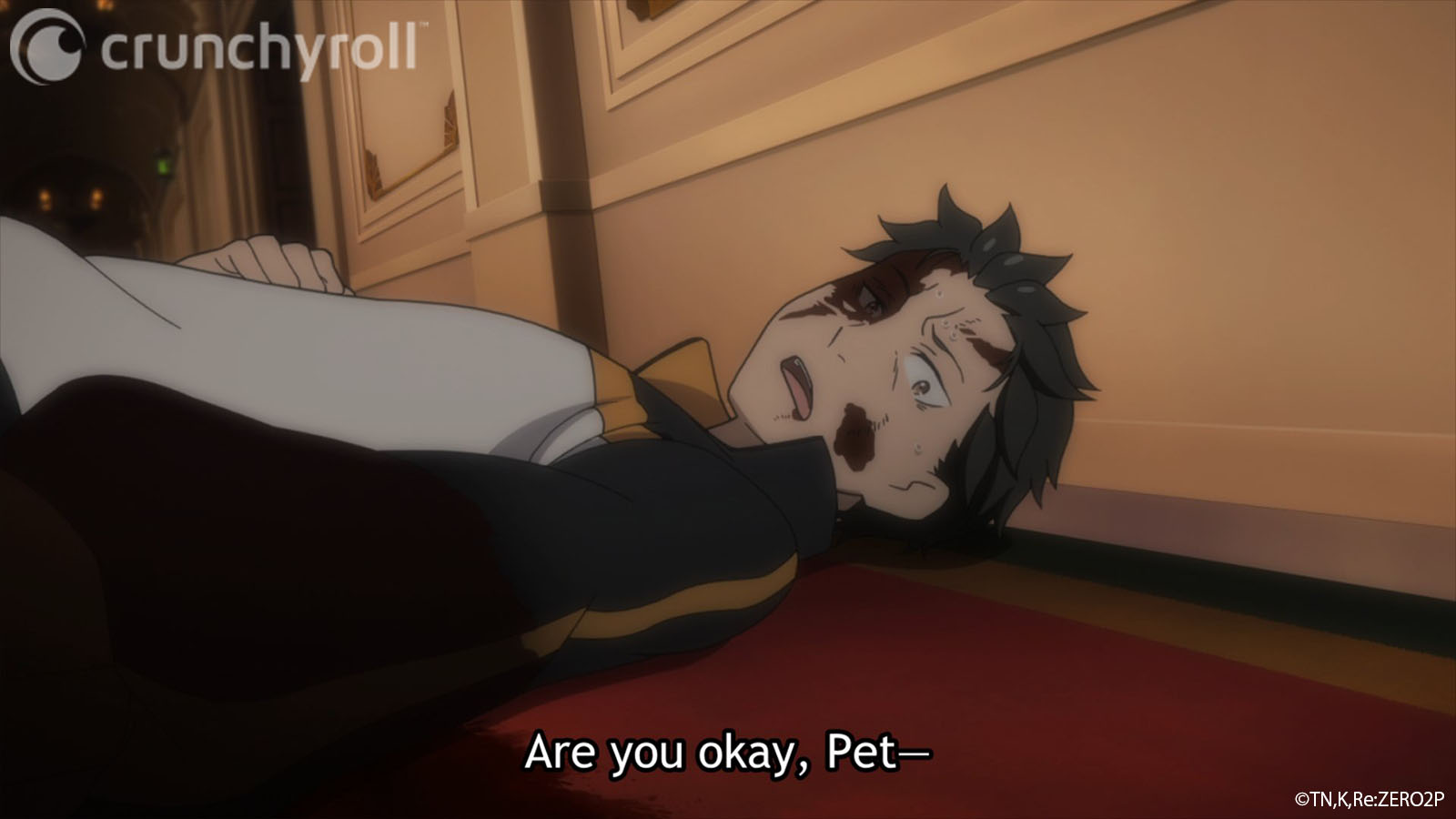 In Subaru's final encounter with Elsa, she hints at possibly knowing of Subaru's origins. Referring to him as "shut-in." More mystery is added to the pot.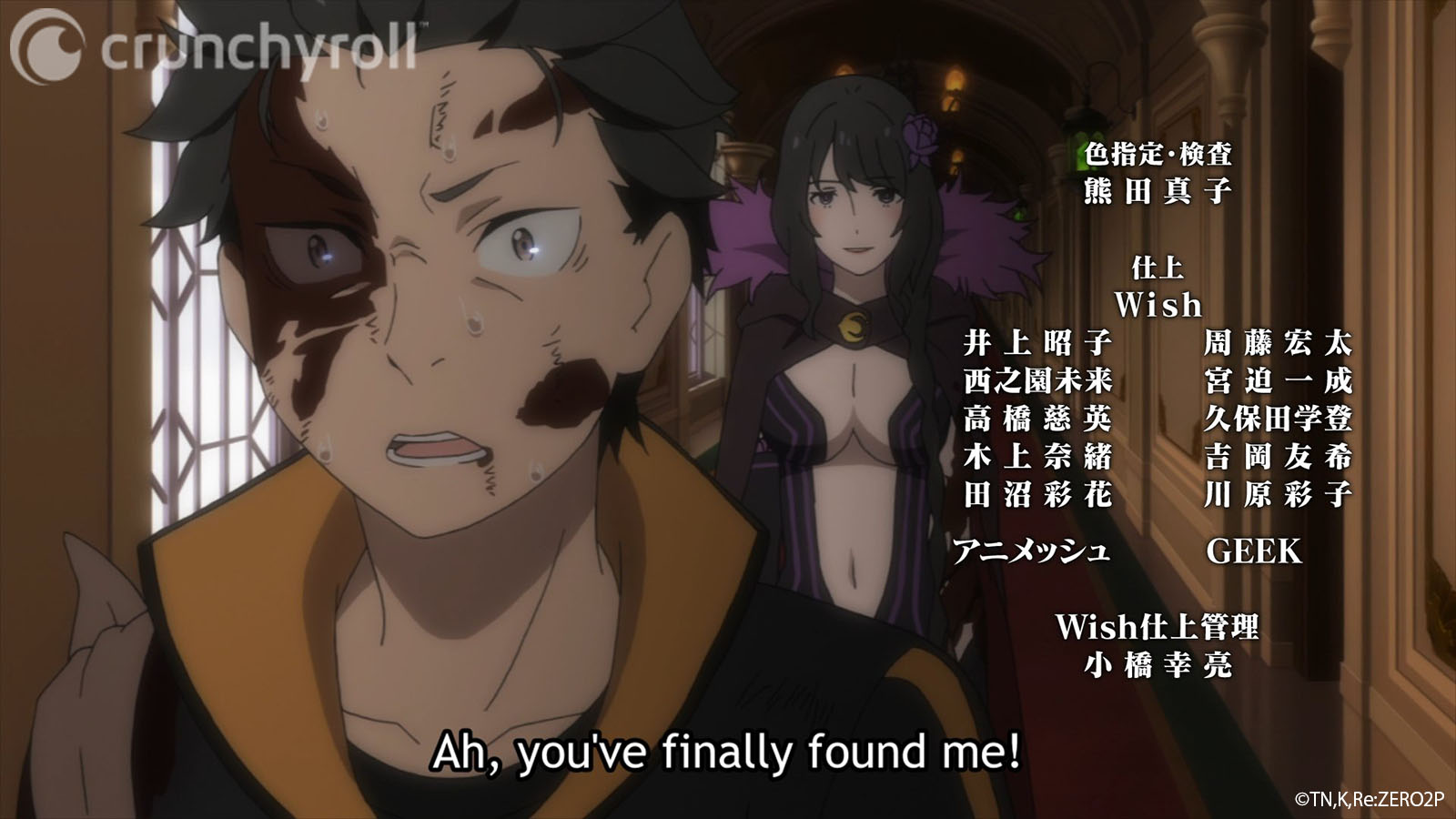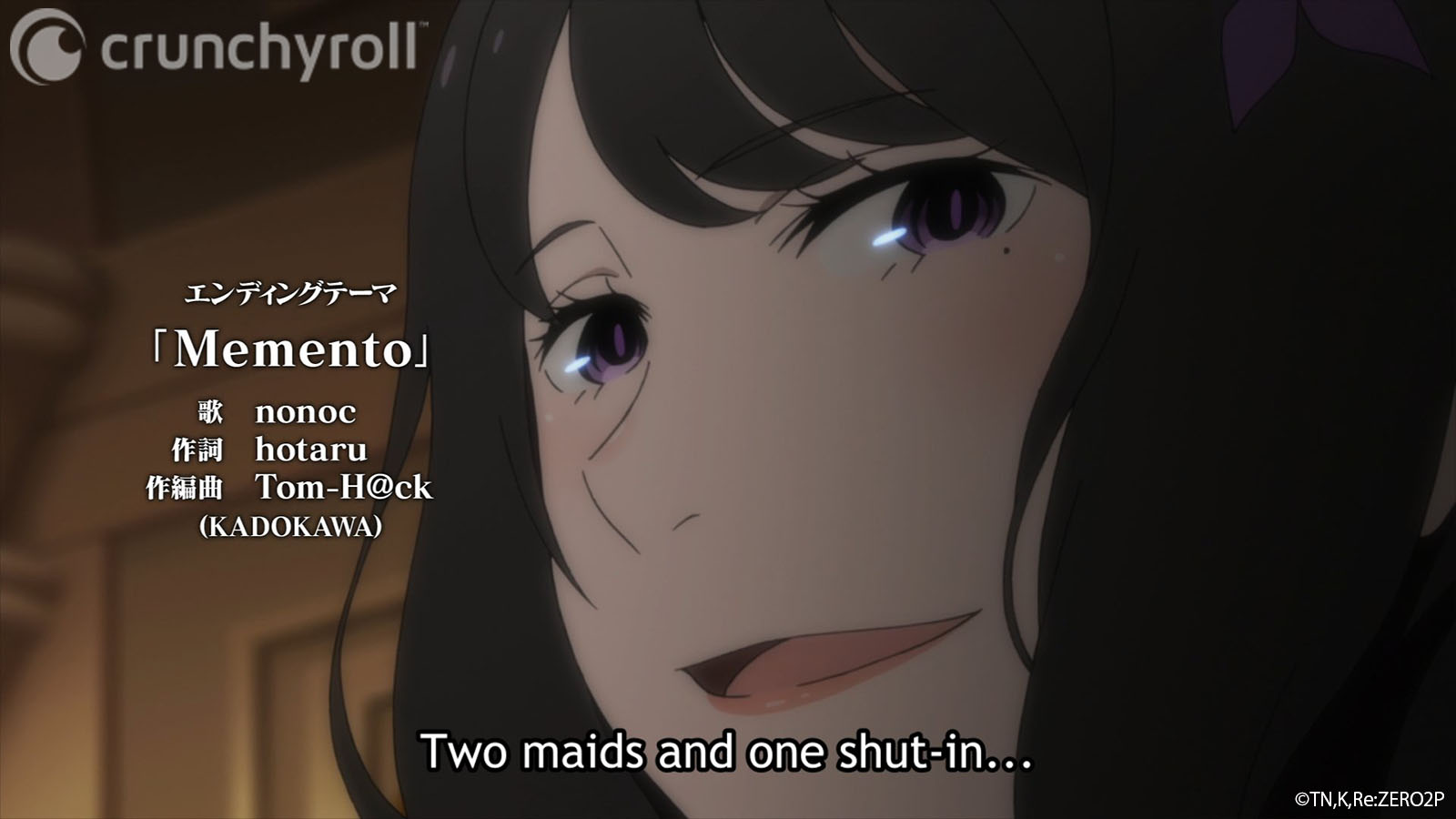 Under normal circumstances, Subaru could die and go back to the drawing board with a plan to overcome this timeline with Elsa. Yet, just before death, he's inconveniently saved by Beatrice's dimensional abilities.
Subaru is seething with anger as the episode comes to a wild close.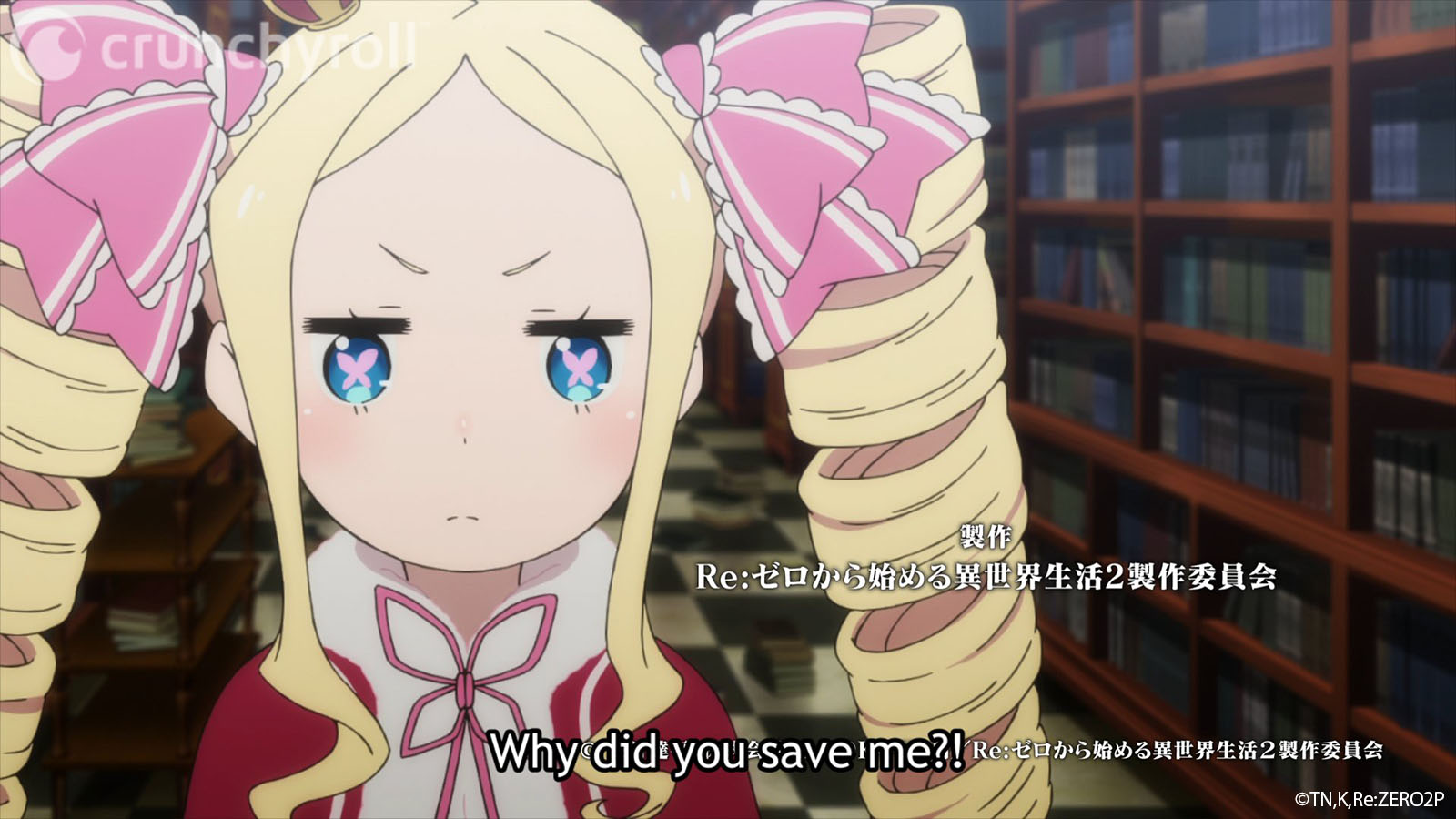 Is Beatrice here to grant Subaru knowledge for his next cycle? Will she permit him to die? Tell us your non-spoilery thoughts on Ri:Zero kara Hajimeru Isekai Seikatsu in the comments!

Do you love writing? Do you love anime? If you have an idea for a features story, pitch it to Crunchyroll Features!