On Crunchyroll, every day is Discotek Day
Every anime season brings a new roster of hits, but the shows of the past recede into the distance. Certainly, there are some exceptions and niche fans keep the spirit of ongoing series like Gundam alive. But with the continued emphasis on new and exciting anime, it's tempting to forget the multitude of great shows and movies that already exist.

The Discotek label has fought consistently over the past several years to ensure that anime's past is preserved. Run by industry stalwarts, they've done the impossible time and time again: they tracked down the masters of cult OVA Project A-Ko, painstakingly restored the 2001 remake of Cyborg 009: The Cyborg Soldier from thousands of damaged tapes, and much of their best stuff is now available for streaming.
If you're looking for something a little different or simply looking for a new show to watch, why not travel back into anime's past? Here are some great TV series and movies as enjoyable today as they were when they were produced.
These are just my own recommendations, picked from the great sea of Discotek titles. But if you want to explore further, and check out titles including real-life inspiration on Yoko Taro, Sister Princess, you can find their shared Crunchyroll catalog list here.
Note: The titles listed are largely only available in the United States and Canada.
Movie Night
Urusei Yatsura Movie 2: Beautiful Dreamer
One of the best-known anime directors ever, Mamoru Oshii first made his mark with an outrageously popular animated sitcom: Urusei Yatsura, the series that put the queen of romantic comedy manga Rumiko Takahashi on the map. Oshii struck a balance throughout the TV series between hilarious comedy and experimentation, but it was in the second Urusei Yatsura film, Beautiful Dreamer, that he really went all out. This surreal time loop story keeps finding new ways to defy audience expectations throughout its runtime both as an atypical Urusei Yatsura tale as well as a sterling example of just how imaginative and ground-breaking the Urusei Yatsura anime could be at its best.
GoShogun: The Time Etranger is that classic anime standby: a film completely different in tone and content than the franchise that spawned it. Released four years after the original 1981 super robot series, The Time Etranger spends much of its runtime focused on the dreams and anxieties of sole female cast member Remy as she lies in a coma at the hospital. Examining "what happens after" a final super robot fight, it remains an enjoyable film with smarter writing than you'd expect. The Time Etranger is also a notable favorite of the great 80sanime Tumblr.
Night on the Galactic Railroad
Kenji Miyazawa's novel Night on the Galactic Railroad might be best known to English-speaking audiences as a reference point for anime like Mawaru Penguindrum and Galaxy Express 999, but in truth, it's one of the most beloved Japanese children's stories ever written. An anime film adaptation was released in 1985, directed by the famed Gisaburo Sugii and scored by Yellow Magic Orchestra member Haruomi Hosono. Also, the characters are all drawn as cats! While slow-paced, it's a strong adaptation that captures the charming and whimsical spirit of the original novel.
Other Discotek movie recommendations:
Mecha
Folks talk up director Yoshiyuki Tomino as the key creative force behind the original Gundam. But don't forget Yoshikazu Yasuhiko, the talented character designer behind both Mobile Suit Gundam and Zeta Gundam. His most personal anime project is Giant Gorg, the story of a young boy who stumbles across a giant robot on a mysterious island. Rather than a Gundam-style war narrative, Giant Gorg is a proper adventure story in which the young cast spring from cliffhanger to cliffhanger. A white whale in American anime fandom for years, it was finally licensed for distribution in the United States in 2015. Don't forget this fantastic mash-up between the Giant Gorg OP and the Perfect Strangers theme!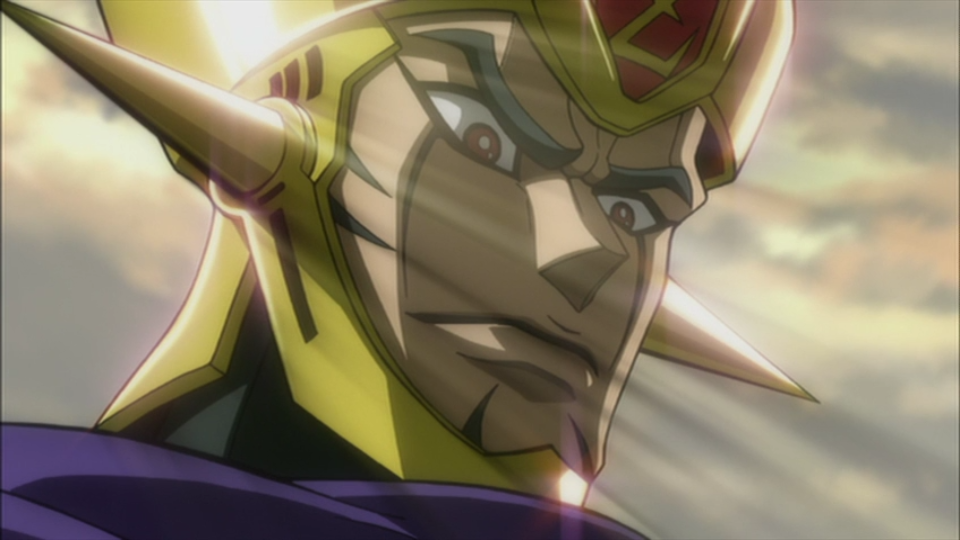 In Mazinger Edition Z, cult-favorite director Yasuhiro Imagawa reimagines Go Nagai's classic robot series to create a unified setting packed with pulpy thrills and conspiracies: The giant robot Mazinger has a past history involving the Greek god Zeus! The villain Baron Ashura is recontextualized as a deeply tragic villain with the best story arc in the series! We're even given Tsubasa Nishikori, a Go Nagai staple who here becomes Imagawa's best-written female character!
Mazinger Z is absolutely suffused with the spirit that made Imagawa's earlier masterpiece Giant Robo so beloved and is an essential watch for any fan of that series. Not to mention that it ends with a cliffhanger brutal enough to make Go Nagai jealous.
Other Discotek mech recommendations:
Comedy
Anime comedies speak to the time that they were made, but there's something uniquely timeless about Cromartie High School. You could say the show is funny because it's set in a high school whose roster of delinquents includes a robot, Freddie Mercury, and a gorilla. But I think it goes even further than that: Cromartie High School is funny because its rowdy delinquents live lives just as boring as our own. When I watch Cromartie High School, I think not "what weirdos!" but "same, bro." True in 2003, true in 2021.
Other Discotek comedy recommendations:
Drama
Key the Metal Idol is a truly weird series. Directed and written by Hiroaki Sato, one of three animation directors who brought anime film masterpiece Akira to life, it's the story of an android tasked by her creator to become human by making 30,000 friends. It's a series that skewers the entertainment industry but is also loaded down with science fiction exposition. It's a series that's deeply in love with the work of David Lynch. Key the Metal Idol is flawed and idiosyncratic, but it's also a genre-busting original far ahead of its time. And the opening credit sequence rules.
Fantasy anime are a dime a dozen these days, but for my money, no recent title comes close to The Twelve Kingdoms. The series has its share of magical creatures, epic duels, and even more elaborate fantasy worldbuilding than you can shake a sword at. But most of all, it's a story about people and growth. Twelve Kingdoms puts its cast of scared teenagers in a crucible and subjects them to intense pressure until those teenagers realize, to their shock and genuine awe, that they can handle anything the world throws at them. Twelve Kingdoms deserves consideration along with Berserk as one of the greatest works of epic fantasy that animation has to offer.
Other Discotek drama recommendations:
What are your favorite older anime? Is there an anime BluRay or DVD you treasure most? Let us know in the comments!

---

Adam W is a Features Writer at Crunchyroll. When he is not evangelizing Kaiba to his friends and neighbors, he sporadically contributes with a loose group of friends to a blog called Isn't it Electrifying? You can find him on Twitter at:@wendeego
Do you love writing? Do you love anime? If you have an idea for a feature, pitch it to Crunchyroll Features!