Ringo Shiina and co.'s latest to drop on June 29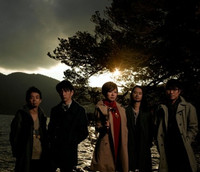 It's been a year and a few months since Tokyo Jihen's last album, Sports, hit Japanese shops. Now Ringo Shiina and her upbeat rock/jazz outfit have announced their next album, Daihakken (Great Discovery), for release on June 29.
The first single from the album, "Sora ga Narutteiru / Onna no ko wa Dare demo," makes its debut on May 11. The album will also reportedly feature new versions of "Tengoku e Youkoso" and "Dopamint!" among its 13 tracks.
In addition to the album and single, Toko Jihen will also be embarking on a nationwide tour (sorry, fans outside of Japan) that's sandwiched between start and stop dates in Tokyo on September 30 and December 2, respectively.
Here are the rest of the dates for Tokyo Jihen Live Tour 2011 Discovery:
2011.9.30 Tokyo, Fuuchuu no Mori Theater
2011.10.2 Shizuoka, Shizuoka Bunkakaikan
2011.10.10 Hakkaido, Nitori Bunka Hall
2011.10.14 Ishikawa, Honda no Mori Hall
2011.10.16 Niigata, Niigata Kaikan
2011.10.19 Saitama, Oomiya Sonic City
2011.10.25 Fukuoka, Fukuoka Sun Palace Hotel & Hall
2011.10.26 Fukuoka, Fukuoka Sun Palace Hotel & Hall
2011.10.28 Kagoshima, Kagoshima Bunkan Hall 1
2011.11.03 Hyogo, Kobe International House
2011.11.04 Okayama, Kurashiki City Auditorium
2011.11.06 Hiroshima, Hiroshima Cultural Hall
2011.11.12 Aichi, Nagoya Century Hall
2011.11.13 Aichi, Nagoya Century Hall
2011.11.16 Kanagawa, Kanagawa Hall
2011.11.22 Osaka, Grand Cube Osaka
2011.11.23 Osaka, Grand Cube Osaka
2011.11.25 Kagawa, Alpha Anabuki Hall
2011.12.01 Tokyo, Tokyo International Hall A
2011.12.02 Tokyo, Tokyo International Hall A