Uber-hip Harajuku fashion SOS Brigade buttons and Haruhi shirts go on sale June 15 in Japan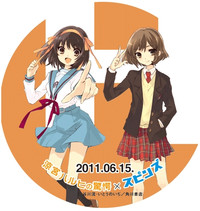 SPINNS is a cutting-edge Japanese brand with a huge following among Harajuku girls and guys. With a flagship store located in Tokyo's most fashion conscious neighborhood, their cheap and colorful apperal is routinely featured in magazines such as FRUiTS, Zipper, and KERA.
Now, possibly inspired by rival UNIQLO's foray into designer anime shirts, SPINNS has announced a new line of collaboration goods revolving around fan-favorite anime, manga, and light novel sensation The Melancholy of Haruhi Suzumiya.
Starting June 15th, the SPINNS web store will carry 16 exclusive Haruhi themed items. They range from pin badge sets emblazoned with SOS Brigade logos and slogans (4 for 390 yen, US$4.80)…
…to elaborate replicas of Sasaki's school blazer (9,900 yen, US$123.00) and skirt (5,900 yen, US$73.00).
The best of the lot though is probably SPINNS' original Haruhi T-shirt creations (3,990 yen, US$49.00). They replicate the iconic look of Haruhi Suzumiya's uniform and Mikuru Asahina's waitress outfit like those old tuxedo shirt gags of old.
It's unclear as of now if SPINNS will be exporting these fine products abroad, but I suspect it will be possible to purchase them outside of Japan via Rakuten's English language shopping site. In the meantime, drool to your hear's content over at the official collaboration website.
SPINNS x The Meloncholy of Haruhi Suzumiya
© Nagaru Tanigawa · Noizi Ito / Kadokawa Shoten