Newest member was a computer-generated composite of six members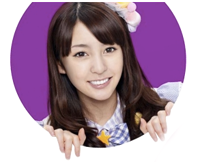 It was revealed on Monday that AKB48's newest member was a computer-generated composite image generated from the faces of six existing members. Aimi Eguchi became the new face of the confectionery line from Glico (Makers of Pocky, Pretz and Almond Chocolate) and raised a few eyebrows in the online community. The truth was revealed when a mini documentary titled "The Birth of Eguchi Aimi" was unveiled on the Glico website.




Image of Composite

Eguchi is voiced by 15-year-old newcomer, Yukari Sasaki. Her features consists of 17-year-old Mayu Watanabe's eyebrows, 19-year-old Tomomi Itano's nose, 20-year-old Takahashi Minami's facial outline, 22-year-old Yuko Oshima's hair and 25-year-old Mariko Shindoa's mouth.



Glico Commercial Featuring Aimi Eguchi



Watch this Anime Expo video to learn more about the group

Source: Japan Today
Image Source: Glico/AKB48


----
Sean Russell is the webmaster for the podcasting network, Anime3000.com.