Miyaji was also co-founder and CEO of mobile games developer G-Mode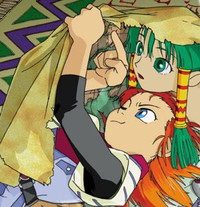 G-Mode, a mobile games developer in Japan, released a statement yesterday that its CEO and co-founder Takeshi Miyaji passed away on July 29 at the age of 45. Miyaji was best known for creating the much loved Grandia RPG series, which made its 1997 Japanese debut on Sega Saturn, with the PlayStation version landing in North America in 1999.
In addition to acting as one of the directors on the original Grandia, Miyaji was also involved with games such as Silpheed and Lunar: The Silver Star early in his career. He then worked at Game Arts—a company he founded at the age of 19—with his brother, Yoichi Miyaji, who continues to serve as president and CEO.
G-Mode came about in 2000, when the mobile phone gaming market was still in its infancy. Miyaji will be succeeded as CEO by Ryu Okoriyama, CEO of Gaia Holdings.
The cause of death has not been revealed.