Manga ad appears in Famitsu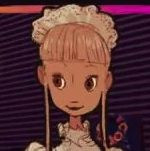 Capcom's new mystery adventure for 3DS Nazo Waku Yakata was released August 4th in Japan. The game uses motion and voice controls, so it's billed as an experience you can have only on the 3DS. The current issue of Famitsu features a manga-style ad with Sayonara Zetsubou Sensei characters.
Itoshiki-sensei tries to figure out what Kafuka is up to with her 3DS:
In other Nazo Waku Yakata news, Nintendo recently announced a Nintendo eShop downloadable version of the first chapter so that players can test out the unique gameplay style for just 200 yen (about US $2.54) before committing to the entire game for 4800 yen (about US $61.18).
Via Hachima Kikou and Andriasang