Upcoming Release From Maiden Japan Label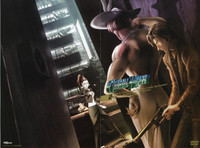 Anime Network has uploaded a trailer for the Glass Maiden, an upcoming title from Maiden Japan label, which specializes in sci-fi thrillers to be distributed by Section23.
The 12 episode science fiction/detective anime series is directed by Mitsuko Kase (SaiKano, MS Gundam 08th Team: Miller's Report) with character designs by Hisashi Kagawa (SaiKano, Pokemon 3.)
Shu's a detective, the brooding, enigmatic type with an eye for the ladies. Together with his kid brother Akira, and 'the girls' Manami and Ayaka, he runs an investigative agency that takes on odd cases. But when the oddest case of all comes through: a 'package' intended for 'delivery,' it turns out to be a lot more trouble than expected. Shu's always considered himself a quick study (he can see through most lies in a second), but when he goes head on with a girl who doesn't even know who she is, he'll be seeing through more than he ever imagined seeing through. Unfortunately, there are other people who want Sara back and they know a lot more about who, and what, she actually is than she does! Old fashioned detective work meets the latest in modern weapons technology as sci-fi meets private eye in Glass Maiden!
Maiden Japan will be distributing Glass Maiden in conjunction with home video distributor Section23 Films (Clannad, High School of the Dead, Appleseed,) with the entire series to be released in both English Subtitled DVD and Digital Formats.
Glass Maiden will be streaming on The Anime Network and is currently streaming on Crunchyroll.