Commemorative cushion celebrates upcoming "Sankarea" anime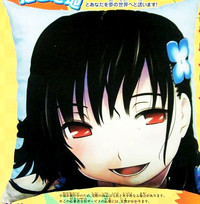 The zombie comedy manga series Sankarea, created by Mitsuru Hattori, is due to get the anime treatment shortly. As part of the promotional spree, the November issue of Kodansha's Bessatsu Shonen Magazine is showing off some of the, ahem, somewhat unique merchandise that fans will soon be able to snap up in droves.
The pillow-shaped "TV Anime Commemorative Zombie Girl Cushion", which features the face of undead female character Rea Sanka, will retail for 2,200 yen (US$28.00). The text claims that it "feels cool to hold' and notes that there's a big surprise when you turn it over...
The flip side reveals Sanka's torso, complete with a zipper on her abdomen. Open it up, and you'll find two red intestine-like ribbons inside. The copy says you can "do whatever you want with them" including tying them in a bow and carrying the pillow around! Whatever you do, for maximum impact, be sure to imitate the guy in photo as much as possible.