Streams on The Anime Network in October, DVD/Blu-Ray in 2012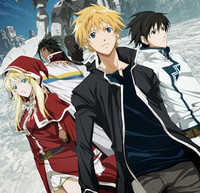 Sentai Filmworks has announced its latest anime acquisition, Broken Blade, a series of animated films based on the manga by Yunosuke Yoshinaga (Rampage). The series—helmed by Chief Director Tetsuro Amino (Macross 7, Shiki) and Director Nobuyoshi Habara (DNAngel, Negima!)—spans six 50-minute installments.
The story takes place in Cruzon, where children are born with the ability to control quartz. With this power they can also control large mobile battle suits called Golems, and that's just what a young king and queen task Rygart Arrow with doing when an ancient Golem is discovered in the midst of a brutal war. This kicks off a battle that will turn friends into enemies and, of course, feature lots of mecha action.
The first installment is set to hit The Anime Network and "many other outlets" this October. Home video release will follow on DVD and Blu-Ray in 2012.