Performance to take place in Japan in May 2012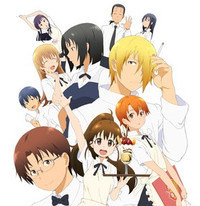 Announced in the latest issue of Square Enix's Young Gangan magazine, Karino Takatsu's manga series Working!! (AKA Wagnaria!!)—also an anime by A-1 Pictures—is being adapted into a theatrical stage play in Japan.
The performance will take place at Zenrousai Hall's "SPACE ZERO" in Shinjuku, and will run from May 11 to May 20 next year.
Working!! follows Sota Takanishi, who gets a part-time job at the family restaurant WAGNARIA in Hokkaido, a place filled to the brim with eccentric characters. The anime adaptation is currently in its second season.
Via alafista
Additional details: ANN
©Karino Takatsu/SQUARE ENIX, "WAGNARIA!!" Project