New cuteness from ALTER's ALTAiR collection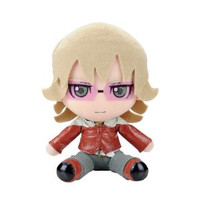 ALTER already unveiled their Kotetsu T. Kaburagi plushy, which goes on sale this January, but now they've announced Barnaby Brooks Jr. for April. Look how cute he is:
His legs have some moving parts so he can pose a bit. He comes with a magnetic stuffed bunny and sash:
In case you missed Kotetsu:
He can also pose a bit, and his hat is removable. Extras include his mask and a sash that matches Barnaby's:
Each one costs 3,360 yen (about US $43.23). It's too bad they don't go on sale at the same time, but just remember that Kotetsu is older, so he's out in January! Barnaby follows in April.
via Otasuke