Robot Does...the Robot!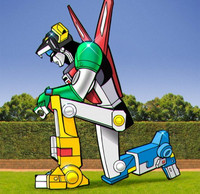 In Japan, Voltron (AKA Go Lion) is all but forgotten: a mere footnote in the long history of robot anime. But in the USA and abroad, he's practically cartoon royalty. This was confirmed yesterday when Voltron showed up in MetLife's splashy Super Bowl ad alongside Scooby-Doo, the Jetsons, and the Charlie Brown gang. Now, MetLife has released a new "behind the scenes" clip featuring the famed robot...dancing the robot.
And here's the original MetLife clip that aired during the big game itself. How many cartoon critters within can you name?
If you're not all that familiar with Voltron, I urge you to check out the original Go Lion show out here on Crunchyroll. The first episode is a doozy.