Keep Sora, Miu, and Hina from "Listen to Me, Girls, I'm Your Father!" in your pocket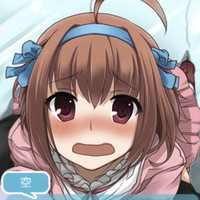 Ok, so you guys weren't too keen on raising mushrooms on your iPhones, but what about raising the sisters from Listen to Me, Girls, I'm Your Father!?!? Bandai Namco previously released the Papa no Iu Koto wo Kikinasai! TB (Toy Box) "communication" app for Android, but as of today it's available in the Japanese App store. Too bad that's only the Japanese App store! (For now?)
Turn your smartphone into a 6 mat tatami room where your 'daughters' live. Mobile game or not, "touch communication" with the girls seems a bit wrong...but different events will happen, etc. The game starts you off with Sora, but Miu and Hina cost 600 yen each (about US $ 7.65).
They're listed on the app page along with other "top add-ons" such as extra scenery (study room, sports facility; 250 yen each), what seem to be other costumes for Sora (school swimsuit, maid; also 250 yen each), and the no doubt most devious microtransaction, a twist of the gashapon toy machine (85 yen).
Check out some more screens:
Would you download the PapaKiki Toy Box if it came to the US App store?
via 4Gamer