Trying to climb a giant monster while swinging the Dragon Slayer would be an interesting sight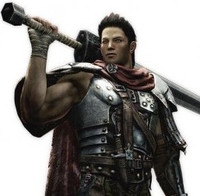 It's a bad habit in almost every medieval RPG I play: I want play as Guts.
Yes, Guts--the Black Swordsman, Slayer of a Hundred Men, armed with incredible physical and metal fortitude, horrific luck when it comes to finding nice, quiet non-demon-possessed towns, and the Dragon Slayer--a sword that is less a sword and more a six-foot-long hunk of slightly-sharpened metal with a handle on one end.
Capcom's open-world fantasy RPG Dragon's Dogma will literally grant me (along with the countless other fans of Berserk) that wish, in a partnership promoting the theatrical Berserk Golden Age Arc I: Egg of the Supreme Ruler, with special DLC weapons and armor in the style of Guts' Band of the Hawk armor, as well as central series figure Griffith in his unmistakable "white hawk" armor.
Of course, both armor sets come with each character's signature weapons, with Guts' signature zweihander and Griffith's rapier ready for battle.
We don't know how amazing these DLC items will be compared to other in-game items, but you have to admit it would be pretty cool to scale a building-sized monster before cutting it down to size with the Dragon Slayer, or filet some bandits dressed as Griffith.
The Japanese release of Dragon's Dogma will also come in a Limited Edition, which arrives in a very, very big box.
Considering I'm still juggling the LE boxes for StarCraft II and Tekken 6, I think I'm going to have to pass on this one, even if it comes with a classy 16x24cm dragon statue.
Score one point on your nerd card if you immediately wondered why it wasn't pewter. In addition to a gigantic box and a well-made statue, there's retailer-specific DLC on one of two bookmark-shaped cards, granting you in-game access to unique costumes and powerful weapons.
Capcom also noted that the weapons and outfits would be available after release as paid DLC. Still no word on whether or not any of this is making it Stateside, but being a huge Berserk fan and kind of obsessed with limited editions, I find this pretty awesome. But what about you? Will you hunt down the heart-stealing villain of Dragon's Dogma dressed as Guts or Griffith if you get the chance?
via Hachima Kikou, Andriasang