Three-year-old Just A Way and jockey Yuichi Fukunaga win Arlington Cup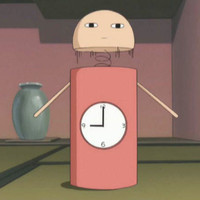 Akatsuki Yamatoya is a writer on a host of anime, including Digimon, Magical Doremi, Inu-Yasha, Soul Eater, Heroman, and Gintama. He's also a three-year-old race horse owner, with Gintama in-joke Just A Way. On February 25th, with Yuichi Fukunaga as jockey, Just A Way ran the mile Hashin track in Takarazuka, Hyogo in 1:36:30 to win the annual Arlington Cup.
In Gintama, hero Gintoki loses his memory and finds himself with a factory job assembling junky looking toys called Just A Ways, which in turn prove to be a terrorist's secret explosive devices. The objects then show up throughout the series as an in-joke.