"Prelude for the Sorcerer" opens at Tokyo's Galaxy Theater on June 28th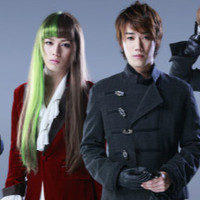 In April, Code Geass will be hitting the stage with a play titled Code Geass Lelouch of the Rebellion on Stage: Riot's Eve, and in July it will be back with an all-male musical called Prelude for the Sorcerer. Having previously gotten a good look at the cast of the former in costume, it's now the turn of the latter.
The performers include
Shinpei Takagi as Lelouch Lamperouge
Fuuta as Rollo Lamperouge
Kouhei as Suzaku Kururugi
Mio as C.C.
Taisuke Wada as Kallen Stadtfeld
Rui Sakiyama as Kaname Ougi
Kento Ono as Shinichiro Tamaki
Kazami Nagasawa as Zero
Shun Mikami as Euphemia li Britannia
TAKA as Cornelia li Britannia
Toshimitsu Kodera as Gilbert G.P. Guilford
Shingo Mori as Diethard Ried
Yoshihisa Higashiyama as Emperor Britannia


There are 16 performances planned for June 28th to July 8th at the Galaxy Theater in Tokyo.