"Fez" creator spouts four controversial words at GDC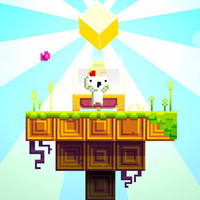 Phil Fish has been working on his fantastic-looking indie game Fez for about five years, but his most talked-about comment at this week's Game Developers Conference didn't focus on his own game. After a screening of Indie Game: The Movie—a documentary that features Fish, among others—a Japanese developer in the crowd asked the panel what they thought about Japanese games.
Phil Fish offered a simple four-word response: "Your games just suck."
Judging from responses across Twitter, it's clear not many people share Fish's bold sentiment. Developer and filmmaker Zack Guido tweeted the following message to Fish:
"It's shameful to sit on a panel discussing an inspiring and heart-felt film and then arrogantly disrespect someone's culture."
Phil Fish (pictured left)
Fish also took to Twitter to defend himself, noting that he, "made a statement about modern japanese games. not the country, not the culture."
Phil Fish isn't the first person to criticize Japan's games industry. Even those within, such as ex-Capcom producer Keiji Inafune, champion of all things Mega Man and more, have had much to say about its shortcomings. However, it's a bit odd coming from Fish, considering how much Fez owes to a long history of Japanese game design. If you're unfamiliar with the upcoming title, here's a recently released long trailer:
What do you think? Was this statement completely out of line, or is Japan's industry in need of some bold-faced and unflinching questioning?
Via Develop