Miki Aono/Cure Berry in "Fresh PreCure", Sayaka Miki in "Puella Magi Madoka Magica"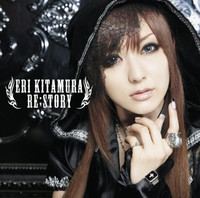 A Japanese voice actress Eri Kiatamura will release her first original album "RE;STORY" on July 25 in Japan. The record company King Record posted a short version PV of the single "re;story" on her official page of their StarChild label yesterday. The album includes her popular anime theme songs such as "Be Starters!" (Mayo Chiki! OP), "Mon" (C³ 3rd OP), and "Happy Girl" (Listen to Me, Girls. I Am Your Father! OP). She is famous for her anime voice works for Miki Aono/Cure Berry in Fresh PreCure! and Sayaka Miki in Puella Magi Madoka Magica in Japan.
"re;story" PV short ver.
CM spot
Limited edition CD cover
Regular edition CD cover
Source: King Record's Star Child label page
© King Record