Do you want some luck from them?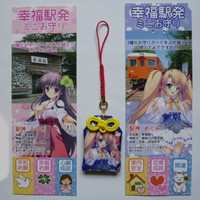 As previously reported in June, Kofuku (means happiness in Japanese) Station in Obihiro-city, Hokkaido, has started offering the official goods of its two moe goddesses, Miyuki and Megumi, today on July 11. The goods are available at the station's souvenir shop (the prices are not mentioned in the press release). Also life-size pop stands of Miyuki and Megumi welcome the visitors at the station. Which good do you want to have for your luck?
Mini-charm (left: Miyuki, right: Megumi)

Miyuki version contains three cards for "playing for happiness", "fulfilling wishes", "for peace"
Megumi version contains "fulfillment in love", "better fortune", "safety of family"
Charm: Miyuki & Megumi version
Ticket-shaped postcard
Uchiwa (round fan)
Source: Press release
© Obihiro-city/Kofuku Station