The best shooter of the last decade gets its own co-op "Horde"-alike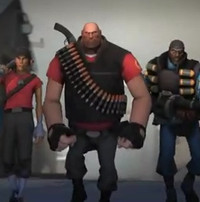 While it's awesome to experience a great video game on your own, it's always a little bit cooler to have friends around for the experience--having an audience made Metal Gear Solid 2 the greatest unintentional action-comedy ever.
While you can already drag your friends along to play Team Fortress 2 with you, Valve is changing things up with the new "Mann vs. Machine" update, where six players team up to fight wave after wave of malicious mechanical monstrosities.
For the few of you following Team Fortress 2's hilarious and surprisingly well-written story, it turns out that there was a third Mann brother--Gray Mann--who has returned to wreak a terrible vengeance on the warring Redmond and Blutarch Mann. Having killed his brothers in cold blood, Gray and his mechanical army march on Redmond and Blutarch's holdings, and the RED and BLU mercenaries will have to do the impossible and work together if they plan on surviving.
I haven't played much TF2 since Meet the Pyro was released, but I do have to mention just how much I love Gears of War's arcade-like Horde Mode, where you team up with other players to fight increasingly stronger waves of enemies. Being able to basically play Horde Mode with TF2's loveable cast and insane arsenal is not a difficult sell for me. What about you? Will you be joining the fight this coming Wednesday in Team Fortress 2's "Mann vs. Machine" update?
Thanks to impeljr for the tip!