Premium Bandai is taking pre-orders for a "Kyubey Face Cake!"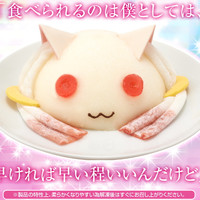 The online shop, Bandai Premium, has not been shy about releasing anime-based edible treats with the Fate/Zero Saber Cake, the [email protected] Jelly, a series of Evangelion cakes, a One Piece Thousand Sunny cake ship, and more!
The latest is from the extremely popular magical girl deconstruction, Puella Magi Madoka Magica with the latest creation, the Kyubey Face Cake.
The cake's designers tried to express the softness of Kyubey's image using Kyuhi, the sweet "mochi" rice-paste used in many Japanese-style sweets, for the fur (if it is fur) that comes out of his ears and for his skin. The rings on that ear fur and the ears themselves are made of chocolate -- as is his smile. The central part of the cake is Vanilla Mousse with a pocket of raspberry sauce inside, all resting on a base of sponge cake.

The set also comes with a metal spoon emblazoned with the silhouette of Kyubey and the word, "Kyupui," the thing he tends to say when he ingests a "used" grief seed.

Pre-orders have started today, and will run until the limited number available for pre-order is reached. The cake itself will ship in November. The cake is priced at 3780 yen (about $48 at present rates)
At the bottom of the listing is an advertisement for a cake that will commemorate the release of the Puella Magi Madoka Magica movies, the "There's Nothing Left to Fear" cake with figures of Madoka and Mami. Orders for this will start in October which is when more details presumably will become available.
Are you willing to sell your soul for cake?