"Duel Masters Rev." starts in Shonen Sunday on sale August 29th.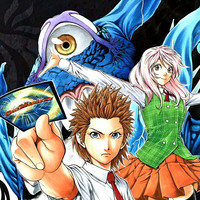 Duel Masters Rev., a new manga adaptation of the Duel Masters game, just started in the latest edition of Shonen Sunday weekly manga magazine by Shogakukan. It is written by Syd Kanzaki (Silent Blood) with the manga drawn by Shinsuke Takahashi (Yuugeki Shojo Yuumi). The first installment of the new manga debuts in Shonen Sunday Vol. 39 on sale today (August 29, 2012).

Duel Masters Rev. (The "Rev." stands for "Revolution") is based on the modern-day fantasy trading card game, Duel Masters. In it, the main characters was once absorbed in card battles as a boy, but he has since forgotten the joy he used to get out of it. Now he takes up his cards once again. More details will come to light as the series progresses.
This isn't the first Duel Masters manga. There was a Duel Masters manga written by Shigenobu Matsumoto that was published in Shogakukan's childrens' manga magazine CoroCoro that ran for 17 volumes. There is an American Duel Masters comic by Dreamwave Productions. TokyoPop also produced a "Cine-Manga" based on the Duel Masters anime.

Are you interested in reading about some Duel Masters action?