La película se estrenará en cines la próxima primavera.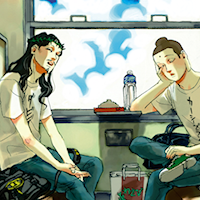 El actor Mirai Moriyama (20th Century Boys, Moteki) y el líder de la banda SAKEROCK, Gen Hoshino ([email protected]) pondrá voz a Jesús y Buda respectivamente en la próxima adaptación a película animada del manga Saint Onii-san (Saint Young Men / Las vacaciones de Jesús y Buda) de Hikaru Nakamura.
Moriyama quiso comentar que en secundaria había leído historias de Jesús y Buda vía los mangas In the Beginning – The Bible Stories y Buda de Osamu Tezuka. Hoshino dijo que él ya era fan del manga de Nakamura y del anime en general. Otros miembros del cast son Reiko Suzuki como Sachiko Matsuda y Ryoko Kinomiya como narradora.
El estudio encargado de su producción A-1 Pictures. La dirección correrá a cargo de Noriko Takao (episodios de Clannad, K-ON!, Lucky Star), los diseños de personajes serán de Naoyuki Asano (director de animación en películas de Doraemon), y la música provendrá de Keiichi Suzuki (No.6, Tokyo Godfathers) y Ryomei Shirai (20th Century Boys).
La película se estrenará en cines la próxima primavera. La edición especial del octavo volumen del manga incluirá una OVA original cuando se ponga a la venta el 3 de diciembre.