Begins Tomorrow, 10/20, at 5pm Pacific Time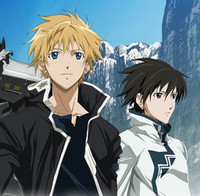 The curtain drops on this week's whiplash round of new additions to the back catalog of anime at Crunchyroll with Broken Blade! Premium users will get all episodes as they become available beginning tomorrow, 10/20, at 5pm Pacific Time, while free users will get one episode per week until the series' completion. Series is limited to US and Canadian audiences only.
Based on the manga by Yunosuke Yoshinaga (published in the US by CMX) the anime feature adaptation of Broken Blade was released over 2010 – 2011 and was produced by Production I.G (Ghost in the Shell) and Xebec (Nyarko-san).
Synopsis:
In Cruzon, children are born with the ability to control quartz. This power allows them to levitate simple objects-or control enormous and complex mobile battle suits called Golems. But when an ancient Golem is discovered during the height of a brutal war, a young king and his beautiful queen turn to Rygart Arrow. Though an "un-sorcerer", Rygart can miraculously pilot this ancient and powerful weapon. But in war, school friends can turn into bitter enemies and allies have suspicious motives. Strap yourself in, power up, and prepare for the heavy metal mecha action of Broken Blade!
-------
Patrick Macias is editor in chief of Crunchyroll News. He also runs the Japanese Fashion Inferno tumblr blog. Follow him on twitter at @Patrick_Macias.