La película se estrenará el día 13 de abril.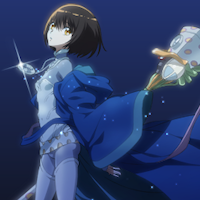 La web oficial de la adaptación a película animada de la novela Aura ~ Maryuinkouga Saigo no Tatakai de Romeo Tanaka y que se estrenará el día 13 de abril, ha revelado el que será el cast de voces completo de la misma.
El cast completo quedará así:
Nobunaga Shimazaki será Ichiro Sato
Kana Hanazawa será Ryoko Sato
Marina Inoue será Oshima
Satomi Akesaka será Imawano
Hisako Kanemoto será Kobato
Ryohei Kimura será Takahashi
Hiroki Yasumoto será Yamamoto
Yumiko Kobayashi será Itou
Kappei Yamaguchi será Suzuki
Chiwa Saito será Hino
Kenichirou Matsuda será Ando
Kishô Taniyama será Kinoshita
Yu Kobayashi será Oda
Satsuki Yukino será la hermana mayor de Ichiro
Kaho Kouda será la madre de Ichiro
Showtaro Morikubo será Kume
Takahiro Mizushima será Dorisen
Ryotaro Okiayu será el hombre de negro
Tetsu Inada será el hombre de blanco
Jouji Nakata será el narrador


La novela, publicada en 2008, es una comedia romántica protagonizada por un chico de primero de instituto llamado Ichirou "Menzu" Satou que un día se deja uno de sus libros en clase. Volviendo al instituto ya en plena noche con intención de recuperarlo porque le hacía falta, se encuentra con una preciosa chica que dice ser de un mundo paralelo. Ichirou se sorprende al inicio, puesto que en el pasado solía soñar con que le ocurrieran esas cosas y era bastante friki por ello, pero para entrar al instituto había decidido dejar de lado tales fantasías para ser un estudiante normal.


Seiji Kishi (Persona 4 The Animation, Angel Beats!) será el director bajo AIC ASTA, Makoto Uezu(School Days, Seto no Hanayome) colaborará en la composición de historia junto al guionista Jun Kumagai (Persona 4 The Animation). Kazuaki Morita (Carnival Phantasm, Kamisama Dolls) se encargará de adaptar al anime los diseños originales de personales de mebae (C – Control – The Money and Soul of Possibility).