Swords are prizes for a Facebook contest by Cosplay prop duo Codykoko Cosplay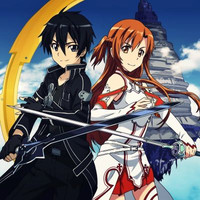 We've all seen the people with the killer cosplay props at cons - sometimes it's a Deadmaster with a scythe bigger than she is, and sometimes it's Adventure Time's Marceline with that killer axe. Now that person can be you - if you're lucky.
Cosplay prop duo Codykoko Cosplay is giving away a prop. Which prop? That's up to the winner. The options are Marceline's bass, Asuna's sword or both of Kirito's swords. Because, as we all know, if you're going to be Kirito, you need to dual wield.
By the way, the girl with the crazy cool Asuna cosplay? That's Firecloak. You should check out her cosplay page on Facebook.
How to win? Like, share, comment. Their official rules are on their Facebook page. You must like their page, share their contest picture and leave a comment on the share. The comment must be set to public. You can share the picture once a day until the contest is over. Contest ends January 31st (which is the day they will notify the winner, by tagging them in a post).
Source: Codykoko Cosplay Facebook Page
-------
Amanda Rush is the Associate Editor for Ani.Me and contributor for OtakuCollectionDX. She swears in the middle of the night on Twitter as @TheAnimaven.