Entire series will be released in bilingual English DVD and digital formats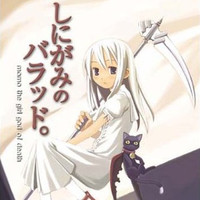 Maiden Japan announced its acquisition of the 2006 light novel adaptation OVA series Momo, Girl God of Death ~ Ballad of a Shinigami. This six episode drama is directed by Tomomi Mochizuki (Princess Nine, Here's Greenwood) with series composition by Reiko Yoshida (Kaleido Star, Angelic Layer), character designs by Hiroyuki Horiuchi (Polyphonica, Tenchi Universe), and music by Moka (Elfen Lied, Trouble Chocolate).
It will be distributed in conjunction with home video distributor Section 23 Films, with the entire series to be released in bilingual English DVD and digital formats.
Maiden Japan's description of the series:
Dressed all in white with scythe in hand, she is one of the spirits entrusted with guiding the souls of the no longer living to the other side. But unlike other shinigami who approach their grim duty with detachment or even malevolence, Momo chooses to open her heart to those about to cross over. Nor are solace and sympathy the only gifts she offers. For if the need is great enough, she may allow a last visit, a message to loved ones or even a chance to make amends. But how far can even the most well meaning shinigami bend the rules of life and death before she, herself, is called to task? Momo and her flying cat Daniel may soon learn the answer as they find themselves continually becoming involved in the world of the living, even as they attempt to deal with the not always willing souls in the process of departing it. Grave consequences may lie ahead, but heavenly rewards are just as certainly guaranteed when life, death and what happens in between all come together in MOMO, GIRL GOD OF DEATH!
------
Scott Green is editor and reporter for anime and manga at geek entertainment site Ain't It Cool News. Follow him on Twitter at @aicnanime.