New online streaming venture backed by 6 major anime studios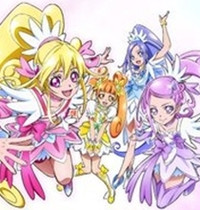 In what should come as a surprise to many, Japanese business daily Nikkei has confirmed the forthcoming launch of a new streaming portal for Japanese anime targeted towards the English-speaking market.
The new venture is called Daisuki and is backed by 6 major anime studios in Toei Animation, Aniplex, Sunrise, TMS Entertainment, Nihon Ad Systems (NAS) and Dentsu, with conglomerate ADK (Asatsu-DK) providing the initial investment, valued at $3.69 million. ADK will retain a minority stake of 26.3% while the six initial backers will own partial stakes of varying percentages in the venture. The percentages are broken down and follow below:
Aniplex Inc. 61,700 K yen (13.4%)
SUNRISE INC. 61,700 K yen (13.4%)
TOEI ANIMATION CO., LTD. 61,700 K yen (13.4%)
TMS ENTERTAINMENT CO.,LTD. 61,700 K yen (13.4%)
NIHON AD SYSTEMS INC. 61,700 K yen (13.4%)
DENTSU INC. 30,000 K yen (6.5%)
ASATSU-DK INC. 121,000 K yen (26.3%)
The streaming portal is planned to host the most popular titles from among 500 provided by the 6 initial backers with additional plans to simulcast new series simultaneously, as well as offering live programming in English. The goal of the venture is to earn revenue through ads and subscription fees, though specific details on rates and fees have yet to be decided. The first titles being offered on the new service when it launches in April include the following:
Puella Magi Madoka Magica
Mobile Suit Gundam
One Piece
Lupin the 3rd
Prince of Tennis
As the above six studios currently license content to local streaming services around the world, the fact that ADK is launching a studio backed streaming venture could be seen as a way to curb such licensing in favor of direct streaming through a studio-backed service, with studios earning revenue on a more direct basis. This is also backed up by the fact that the venture plans to launch an e-commerce platform later this year in June to tie into the service for physical merchandise sales.
With all of that said, my biggest questions center around the need for yet another streaming service, especially as the above Japanese studios already have a presence on Nico Nico Douga and Bandai Channel in Japan, which have been established for years and already have a presence of some sort in English. Another concern I have is how this will affect already established streaming portals such as Crunchyroll, Funimation's Elite Video Service, Anime On Demand and others in terms of license availability for new and older shows.
With the establishment of Daisuki, it certainly looks like Japan's anime industry is starting to understand where things are going in terms of anime consumption and commerce in the West, but the April timeframe leads me to believe that the initiative is looking to hit the ground running, even though it was only established in October of last year. I think the biggest question everyone's asking themselves at this point is at what cost is the service going to be to people that have already committed to one or more streaming services?
What do you think? Would you be willing to sign up for this new service when it launches?
via AnimeAnime!
---
Humberto Saabedra is the Editor-in-Chief of AnimeNews.biz, PhoneNews.com and an occasional columnist for Ani.me. He can also be found musing on his favorite 2D girls at @AnimeNewsdotbiz.