Custom jewelry line inspired by the series, "Lupin the Third: The Woman Called Fujiko Mine"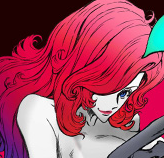 Fujiko will forever be one of the most admired bad girls in anime in Japan. Now, TMS Entertainment has introduced a new jewelry line taking inspirartion from Lupin the Third: The Woman Called Fujiko Mine, for those who want to feel a little bit like Fujiko. And the line isn't just costume jewelry, either.
Fujiko's pearl ring
Fujiko wore this ring in episode 1 "Master Thief VS Lady Looter".
The pearl opens up for a bad girl to hide her medicine....in reality, even if I had this ring, I would end up concealing Altoids or something, but it's still cool.
All jewelry pieces in the line come in nice box with Fujiko's silhouette.
Design drawing used in anime. Although it was gold in anime, the actual ring is only available in silver with an 11mm diameter pearl and it comes with a certificate of authenticity. The piece is priced at 93,450 yen (approx. $950 USD).
Bracelet inspired by Fujiko's mask
It's silver and there is an amethyst in the center with the crasp that has an owl which was used symbolically in the series. It is priced at 25,200 yen (approx. $270 USD)
Fujiko's mask in episode 1.
Fujiko pendants in silver.
Two silver pendants are available at 16,800 yen each or both charms together for 24,990 yen.
Fujiko silhouette
A little Fujiko tag at the crasp.

Butterfly
Both
Fujiko silhouette key chain in silver 8,400 yen
TMS Entertainment is also releasing a key animation collection book from the anime on March 26th.
©モンキーパンチ/TMS・NTV
Thanks yuma1234 for correction.