Otaku have a bit of fun with spring themed vote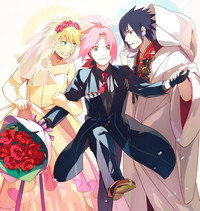 Spring is in the air. Cherry blossoms are blooming. The famous ones in Washington DC are supposed to peak this week. So, in honor of the season, the anime fans at Biglobe decided to put their heads together to pick their favorite anime/manga/visual novel characters named for the "sakura" cherry flowers.
the bit of trivial fun managed to get 4680 votes
1. Madoka Magica's Kyōko Sakura
2. Tsubasa Chronicle's Sakura
3. Naruto's Sakura Haruno
4. Jewelpet Twinkle☆'s Akari Sakura
5. Chibi Maruko-chan's Momoko "Maruko" Sakura
6. Cardcaptor Sakura's Sakura Kinomoto
7. Chibi Maruko-chan's Sakiko Sakura
8. Gakuen Alice's Mikan Sakura
9. Ultra Maniac's Nina Sakura
10. Lamune's Hiromi Sakura
11. Our Home's Fox Deity's Misaki Sakura
12. Oku-sama wa Joshi Kōsei's Sakura Mizunosaki
13. Mahoromatic's Miyuki Sakura
14. DC ~ Da Capo ~'s Sakura Yoshino
15. Onmyō Taisenki's Sakura
16. Sakura Taisen's Sakura Shinguji
17. Mobile Suit Gundam's Asakura
18. Amagami SS' Rihoko Sakurai
19. Ayakashi's Pam Werne Asakura
20. Sola's Sae Sakura
21. Mamegoma's Cherry-san
22. Urusei Yatsura's Sakura
23. Urusei Yatsura's Sakurambou a.k.a. Cherry
24. Ojamajo Doremi Dokkān!'s Mirai Sakura
25. YuruYuri's Sakurako Ohmuro
------
Scott Green is editor and reporter for anime and manga at geek entertainment site Ain't It Cool News. Follow him on Twitter at @aicnanime.