Like the store with the best in-store display promoting Attack On Titan comic vol. 10!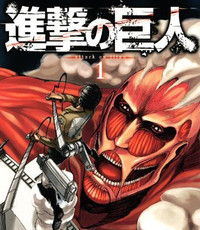 Japanese manga industry blog Comic Natalie is hosting an online competition for Japanese bookstores with their most creative in-store displays promoting the release of Attack On Titan vol. 10 and the site has opened up voting to the general public.
Steps to take if you would like to vote for participating bookstores:
1. Follow the Attack On Titan Display Contest Official Twitter account from the main contest page. It's the blue button that says "twitter".
2. Check out photos of display at various places and vote for your favorite by clicking the star underneath the photos.
3. You can get a special smartphone / pc wallpaper when you finish voting. 10 people will receive all AOT volumes free until the story concludes (whether international residents will qualify for this prize is not specified).
The voting period is from April 5 to May 31st, and the store with most votes will be able to host an autograph session by Hajime Isayama, the author of AOT, as well as being awarded a trip for two to Germany.
Sample in-store display I pulled from the entry by Animate Takamatsu. They even made a replica Titan mask for customers to try!
This is the happiest store clerk I have seen in awhile.
Some places have very creative displays that are hand-made by them! This is at Miraiya Shoten at Sendai Izumi Osawa.
This rookie at Kumazawa Shoten Noumidai is collecting lots of votes! His name is "Jukkan Deta" (which means "Vol. 10 is out" in Japanese) and he greets customer and guards the comic section during the day and stations at the register at night.
The number 1 spot is currently held by Hon No Ganko Do at Karasaki. You can feel the passion for the series from this.
I think this is a great promotion for the comic, while encouraging people to come visit the store. Just as Hayakawa Shoten teamed up with Makishima Shogo of PSYCHO-PASS for the "Read books on Paper" promotion recently, Japanese bookstores are becoming more creative to get people to come in and buy books on paper.