Harlock is voiced by Shun Oguri (Crows Zero, Space Brothers)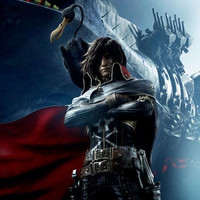 Cinema Today has posted two more video clips from the upcoming CG animated feature film Space Pirate Captain Harlock which is based on legendary artist Leiji Matsumoto's classic manga works. The videos feature a spacebattle of Harlock's ship Arcadia against enemy fighters, and Harlock's swordfight in the ship.
The film is directed by Shinji Aramaki, who has been famous for his mechanical design works for Genesis Climber MOSPEADA (1983) and Bubblegum Crisis (1987). Recently he is more known as the director of CG animated films such as Appleseed (2004), Appleseed Ex Machina (2007), and Starship Troopers: Invasion (2012). Space Pirate Captain Harlock hits Japanese theaters on September 7 in 2D and 3D.
"Spacebattle"
"Harlock's swordfight"
3-minute trailer
© LEIJI MATSUMOTO/CAPTAIN HARLOCK Film Partners